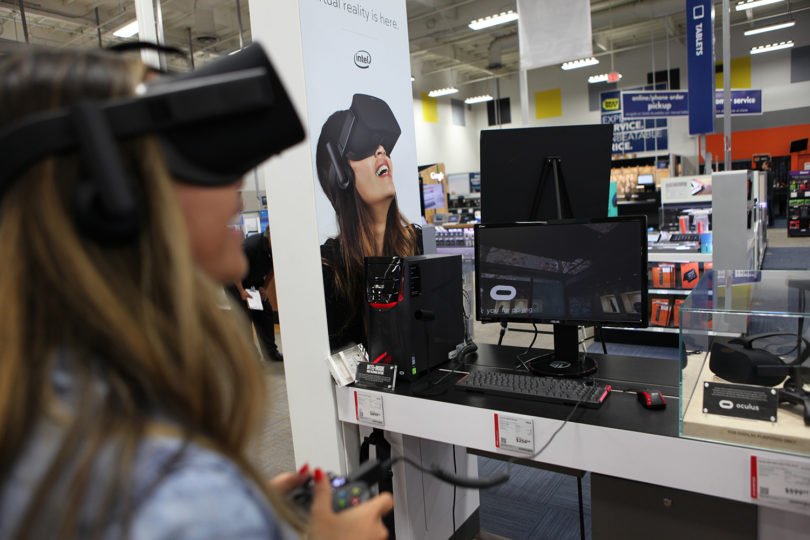 You Can Now Demo Oculus Touch At Best Buy
Best Buy is rolling out Touch controller demos in-store.
The motion controllers ship globally on December 6th, but if can't wait until then, or just want to try them before you buy (they are amazing), you can demo Touch in-store at select Best Buy retail stores across the country.
Touch comes with a second sensor and a Rock Band VR connector.
With hundreds of Best Buy stores already hosting demos of the Oculus Rift since May, all the experiences will now be updated to include new games with Touch capabilities.
During Oculus Connect 3, Oculus finally revealed a release date and pricing on the long awaited Touch motion controllers.
During Oculus Connect 3, Oculus finally revealed a release date and pricing on the long awaited Touch motion controllers.

@VRScout: You Can Now Demo Oculus Touch At Best Buy #VR
Best Buy is rolling out Touch controller demos in-store.

During Oculus Connect 3, Oculus finally revealed a release date and pricing on the long awaited Touch motion controllers.

You can now pre-order Touch on Oculus.com, Amazon and other global retail partners for a price of $199.

The motion controllers ship globally on December 6th, but if can't wait until then, or just want to try them before you buy (they are amazing), you can demo Touch in-store at select Best Buy retail stores across the country.

The hand-held devices help bring your real hands into virtual environments by allowing you to make gestures and finger movements, providing you with an even greater sense of immersion.

With hundreds of Best Buy stores already hosting demos of the Oculus Rift since May, all the experiences will now be updated to include new games with Touch capabilities.

The games include Touch Tutorial, VR Sports Challenge, Unspoken, The Climb (with added Touch controls) and Medium.

If you're interested in stopping by your local store, you can sign up for a demo in advance here or stop by a Best Buy store offering demos for a drop-in session during eligible hours.

Touch comes with a second sensor and a Rock Band VR connector. Plus, all pre-orders (including retail pre-orders) come bundled with The Unspoken and VR Sports Challenge.

Check out some of the new Touch content revealed at OC3 below: