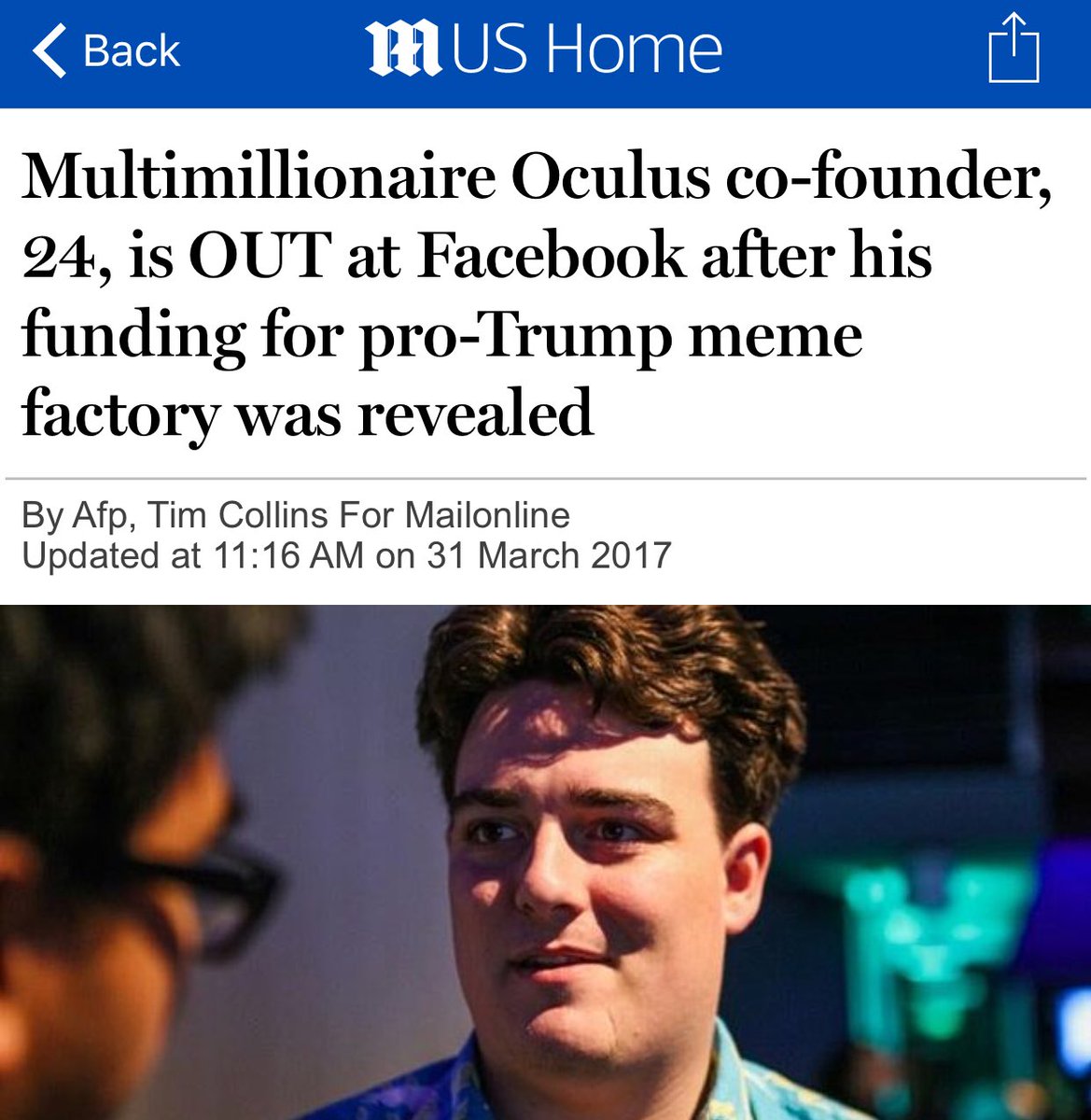 Multimillionaire Oculus co-founder, 24, is OUT at Facebook after his funding for pro-Trump meme factory was revealed 
Palmer Luckey has been jettisoned from Oculus Rift, the VR company he helped found and sold to Facebook.
Some developers vowed not to create software for Rift virtual reality gear because of Luckey's pro-Trump efforts.
The September 2016 revelation about Luckey's Nimble America donation activity was seen as being particularly poor timing, considering Facebook founder, Mark Zuckerberg, was embroiled in accusations over the spread of 'fake news' on the social networking site at the time.
And, in February, a US jury ordered that Facebook and the creators of Oculus Rift pay $500 million (£400 million) to gaming software firm ZeniMax, after it filed a lawsuit that accused Luckey and his Oculus colleagues of using source code illegally obtained from the gaming firm, where some Oculus employees previously worked.
'Hugo shares my belief that virtual and augmented reality will be the next major computing platform,' CEO Mark Zuckerberg announced on his personal Facebook page.
Facebook has confirmed that Palmer Luckey has left Oculus Rift, the VR company he helped found and sold to Facebook, after it was revealed that he donated money to a pro-Trump meme factory.

@Chet_Cannon: Wrong politics = Fired from Facebook
By Afp and Tim Collins For Mailonline

Published: 20:28 EDT, 30 March 2017 | Updated: 14:16 EDT, 31 March 2017
Multimillionaire Oculus co-founder, 24, is OUT at Facebook after his funding for pro-Trump meme factory was revealed