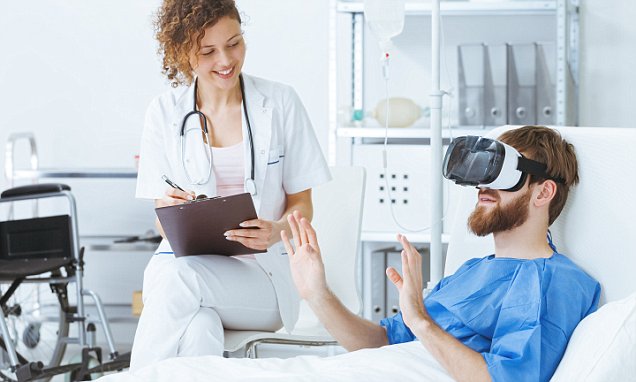 Why virtual reality is the next frontier in pain relief: Games distract players and even trigger changes in the brain
For the current study, researchers reviewed articles published from 2000 to 2016 that explored different ways virtual reality might augment pain relief.
Altogether, researchers identified four small experiments that randomly assigned some patients to try virtual reality for pain relief as well as two pilot studies of the technology for this use.
Taken together, the results from the small studies in the current analysis suggest that virtual reality might help with what's known as conditioning and exposure therapy, a form of behavior therapy that involves helping patients change their response to pain when they feel it.
More research in larger groups of patients is needed to draw firm conclusions about how well virtual reality works for pain relief, the authors caution in the journal Pain Medicine.
Patients need to understand that virtual reality is just a tool to design treatments, and not a treatment by itself, said Max Ortiz Catalan, a researcher at Chalmers University of Technology in Gothenburg, Sweden, who wasn't involved in the current study.
Research suggests that virtual reality treatments for chronic pain might help reduce reliance on opioid painkillers and potentially help curb misuse of these addictive medications.

@evankirstel: Why #virtualreality is the next frontier in pain relief #VR #HealthTech
By Reuters

Published: 17:45 EDT, 15 September 2017 | Updated: 17:45 EDT, 15 September 2017
Why virtual reality is the next frontier in pain relief: Games distract players and even trigger changes in the brain