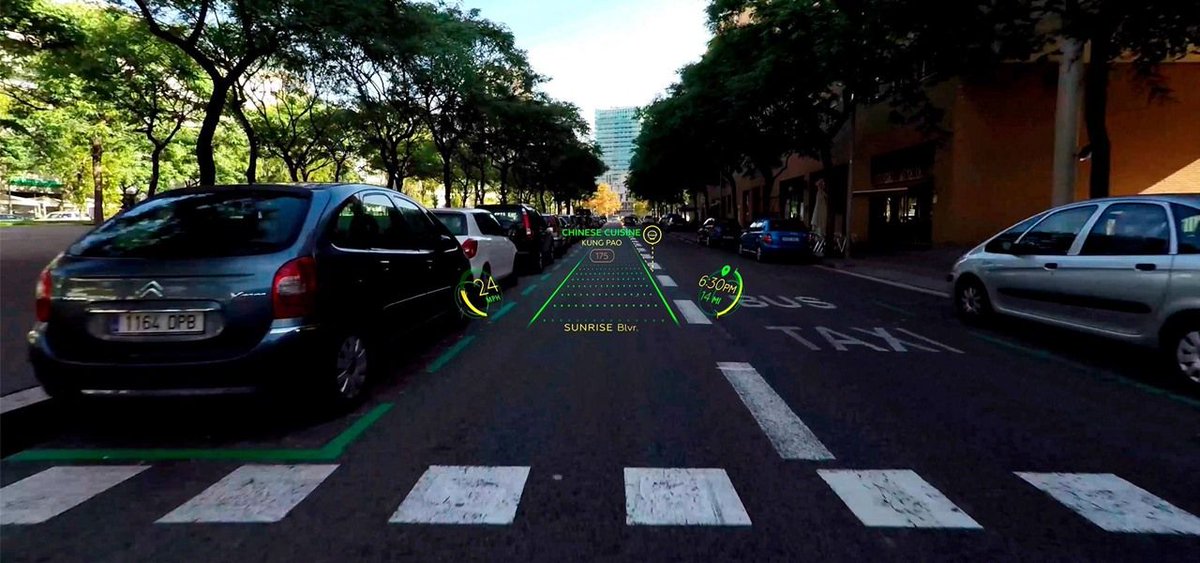 WayRay Wows Auto Industry with AR Navigation Tech « Next Reality
AR navigation company WayRay recently walked away with the grand prize at the AutoMobility LA trade show, beating out nine other startups with innovations including autonomous vehicle software, ridesharing services, electric vehicle charging, and artificial intelligence.
The company's signature product is Navion, a dashboard-mounted device that projects holographic navigation prompts that, from the driver's perspective, appear directly on the road ahead of the car.
"WayRay has stood out amongst some extremely distinguished competitors and we are very happy to announce them as the winner of our 2017 Top Ten Automotive Startups Competition," said LA Auto Show and AutoMobility LA President, Lisa Kaz.
Augmented reality HUDs are the future of car navigation systems.
We believe that WayRay's AR systems will bring us one step closer to advanced connected cars.
Until self-driving cars become mainstream, augmented reality might be the next big technology to hit your dashboard. AR navigation company WayRay recently walked away with the grand prize at the AutoMobility LA trade show, beating out nine other startups with innovations including autonomous vehicle software, ridesharing services, electric vehicle charging, and artificial intelligence. The company's signature product is Navion, a dashboard-mounted device that projects holographic navigation prompts that, from the driver's perspective, appear directly on the road ahead of the car. While the AR

@RickKing16: WayRay Wows Auto Industry with #AR Navigation Tech #AugmentedReality
Until self-driving cars become mainstream, augmented reality might be the next big technology to hit your dashboard.

AR navigation company WayRay recently walked away with the grand prize at the AutoMobility LA trade show, beating out nine other startups with innovations including autonomous vehicle software, ridesharing services, electric vehicle charging, and artificial intelligence.

The company's signature product is Navion, a dashboard-mounted device that projects holographic navigation prompts that, from the driver's perspective, appear directly on the road ahead of the car. While the AR overlays keep drivers' eyes in front of them, the hand-gesture inputs keep their hands close to the wheel.

"WayRay has stood out amongst some extremely distinguished competitors and we are very happy to announce them as the winner of our 2017 Top Ten Automotive Startups Competition," said LA Auto Show and AutoMobility LA President, Lisa Kaz. "It is extremely gratifying to know that AutoMobility LA's global competition can help promising startups advance in an ever-growing mobility sector."

WayRay already has the attention of prominent investors, including Alibaba, who led an $18 million Series B round in March. Along with the announcement of funding, WayRay revealed that their holographic navigation technology would make its way into 2018 production models from Chinese automaker Banma Technologies.

Augmented reality HUDs are the future of car navigation systems. Rather than distracting the driver, AR navigation actually…
WayRay Wows Auto Industry with AR Navigation Tech « Next Reality