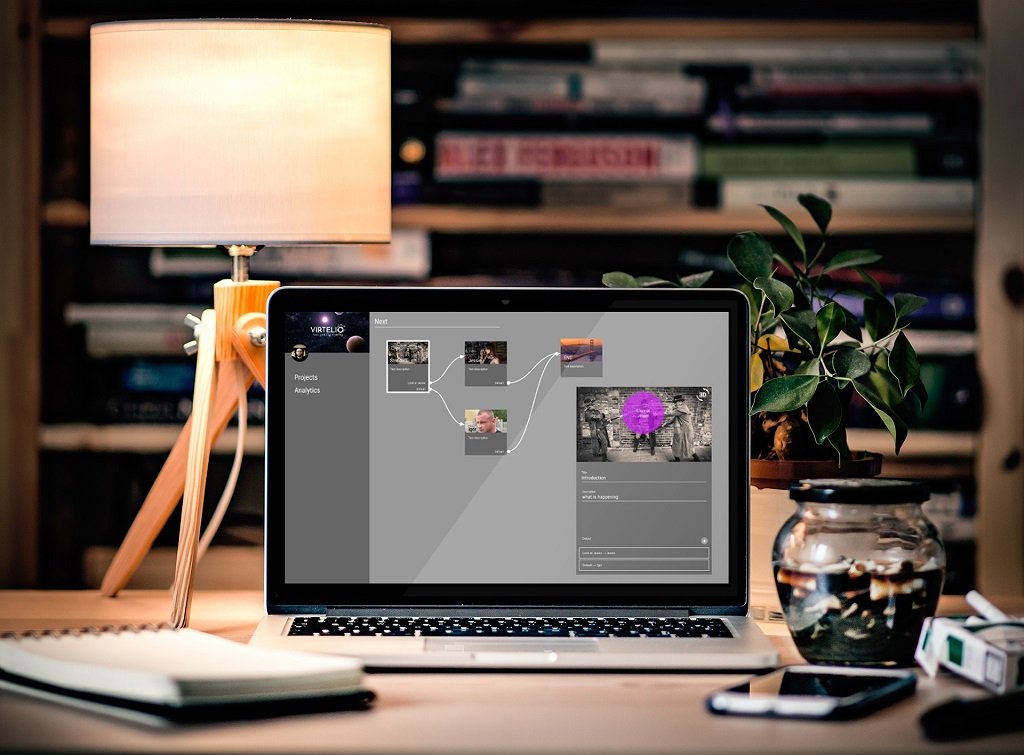 VR Startups: Virtelio enables anyone to create interactive VR movies
Daydream District: "Please tell us a bit more about your position in the company and how you got there!"
Daydream District is your destination for everything about Google's VR platform.
Fred Baus: "Daydream is just perfect.
Fred Baus: "Daydream is a very important platform for us.
Daydream District: "Thank you very much for this interview and all the best for Virtelio!"
Content creation in VR will get more interesting for publishers once VR becomes more mainstream. And Google is just about to make this a reality with Daydream. For our "VR Startups" series we are happy to have interviewed Fred Baus, the General Manager of "realab" that develops VR editing software "Virtelio", a tool that makes it easy for story-tellers to create VR content!

@RickKing16: #VR Startups: Virtelio enables anyone to create interactive VR movies – Daydream District
Content creation in VR will get more interesting for publishers once VR becomes more mainstream. And Google is just about to make this a reality with Daydream. For our "VR Startups" series we are happy to have interviewed Fred Baus, the General Manager of "realab" that develops VR editing software "Virtelio", a tool that makes it easy for story-tellers to create VR content!

Daydream District: "Could you describe what your company is doing, in one or two sentences?"

Fred Baus: "realab brings together talented creators and technophiles to produce original VR & AR experiences. Besides creating content, realab also develops new applications and software with 3 words in mind: simple, user-friendly and innovative. Our first VR editing software Virtelio enables anyone to create interactive VR movies with multiple storylines in a few simple clicks."

Daydream District: "Could you tell us about the history of your company, how did you get the idea for doing what you are doing?"

Fred Baus: "It all started late 2015 when we were approached by Samsa Film, a film production company, to help them create an interactive VR movie. After several meetings with them and other international VR production companies we decided to develop Virtelio, an easy-to-use solution that enables storytellers to create movies with multiple storylines without the need of developers in their team, hence gaining time, saving money and reducing risks."

Daydream District: "How far are you with your company and what are your biggest challenges?"

Fred Baus: "We recently won Best Project 2016 with Virtelio at Filmteractive Festival in Poland. To get an official proof of concept is of course very exciting. Now we will start a closed beta testing phase beginning of November. The right features, timing and pricing are a big challenge for us since we want to deliver a great software at a great price."

Daydream District: "When was the first time that you personally tried VR and what was your initial reaction? What excites you most about virtual reality?"

Fred Baus: "I'm a newbie I have to admit. My first VR experience was in June 2016 and it was quite impressive. Even though it was a very basic one my mind was completely blown away. I love the immersive part and how your brain gets sucked in. What excites me about VR is that it's just the beginning. I can only imagine what mind boggling experiences will be out in a few years. And what strikes me as well is the use of VR in pain relief. More VR less drugs seems like a great way to go."

Daydream District: "Do you believe VR will become as mainstream as smartphones? If so, how long will it take until that time?"

Fred Baus: "Imho VR will become very big in the future. With Playstation VR Google (VR for everyone) and Daydream in particular, VR will become more accessible for everyone at home and on the go. With all that great gear, all we need now is more quality content. Based on my experience I strongly believe that once people try out VR they'll get hooked and will continue using it. And as soon as there is enough exciting content they will also invest in more expensive gear like the Oculus Rift or HTC Vive."

Daydream District: "Are you going to offer your product on Daydream as well?"

Fred Baus: "Daydream is a very important platform for us. Daydream might actually be the perfect partner for Virtelio. Maybe the perfect solution for B2C interactive VR cinema? We have the tool to create great content and Daydream is the perfect platform to enjoy that content. With possible eye tracking in a second phase the future seems even more exciting."

Daydream District: "What are your thoughts about Google's Daydream VR platform in general? Any advantages, disadvantages you see as compared to the competition or related to your product?"

Fred Baus: "Daydream is just perfect. It's a great-looking headset, it seems very comfortable and the price is perfect. Once you can use all smartphones with the headset (iPhones included), Daydream will be a major game changer. No need for a powerful computers anymore, the computer is in everyones pocket already. VR will become portable and comfortable to use. People will have the possibility to enjoy quality content everywhere. Like I said Daydream and Virtelio might just be the perfect combination for storytellers."

Daydream District: "Please tell us a bit more about your position in the company and how you got there!"

Fred Baus: "After being founding partner of 2 startups in the entertainment sector and working as a strategist for a publishing company I joined realab last July as general manager. I'm in charge of all the daily tasks like PR, marketing, sales and finding investors."

Daydream District: "Thank you very much for this interview and all the best for Virtelio!"

We are looking forward to enjoy lots of stories told through the Virtelio system. Stay tuned for more interesting interviews in our "VR Startups" series soon!
VR Startups: Virtelio enables anyone to create interactive VR movies