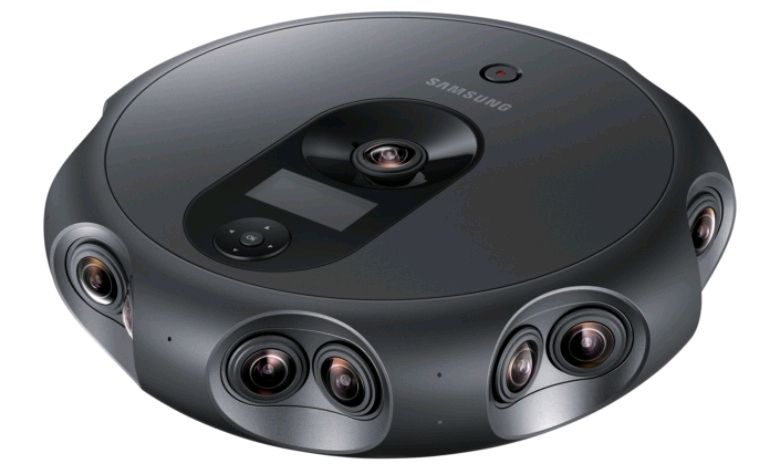 VR pros and enthusiasts, rejoice: the 17-lens Samsung 360 Round camera is 'only' $10,500
Just like all those ultra-affordable Gear VR headsets foreshadowed Samsung's recent announcement of a costlier, more powerful Odyssey mixed reality head-mounted display, the 2016 low-end Gear 360 and its slightly better sequel earlier this year were basically a preamble for the professional-grade 360 Round.
The monster new 360-degree rig is designed for VR "specialists and enthusiasts who demand a superior virtual reality experience."
Combining no less than 17 high-quality lenses, the Samsung 360 Round can both record and livestream immersive 4K video (3D or 2D) at 30fps per eye, as well as spatial audio with a total of 6 internal microphones, not to mention included ports for an extra 2 external mics.
But it's a lot less than what Nokia originally charged for the now-defunct OZO VR camera.
The Samsung 360 Round is more "affordable" than a YI Halo as well, also boasting the lack of a noisy fan and a resulting lightweight design.
If you're a little more serious about your VR content creation than what the Gear 360 can handle, check out the professional-grade Samsung 360 Round.

@RickKing16: VR pros and enthusiasts, rejoice: the 17-lens Samsung 360 Round camera is 'only' $10,500 #vr
September 2017

August 2017

July 2017

June 2017

May 2017

April 2017

March 2017

February 2017

January 2017

December 2016

November 2016

October 2016

September 2016

August 2016

July 2016

June 2016

May 2016

April 2016

March 2016

February 2016

January 2016

December 2015

November 2015

October 2015

September 2015

August 2015

July 2015

June 2015

May 2015

April 2015

March 2015

February 2015

January 2015

December 2014

November 2014

October 2014

September 2014

August 2014

July 2014

June 2014

May 2014

April 2014

March 2014

February 2014

January 2014

December 2013

November 2013

October 2013

September 2013

August 2013

…
VR pros and enthusiasts, rejoice: the 17-lens Samsung 360 Round camera is 'only' $10,500