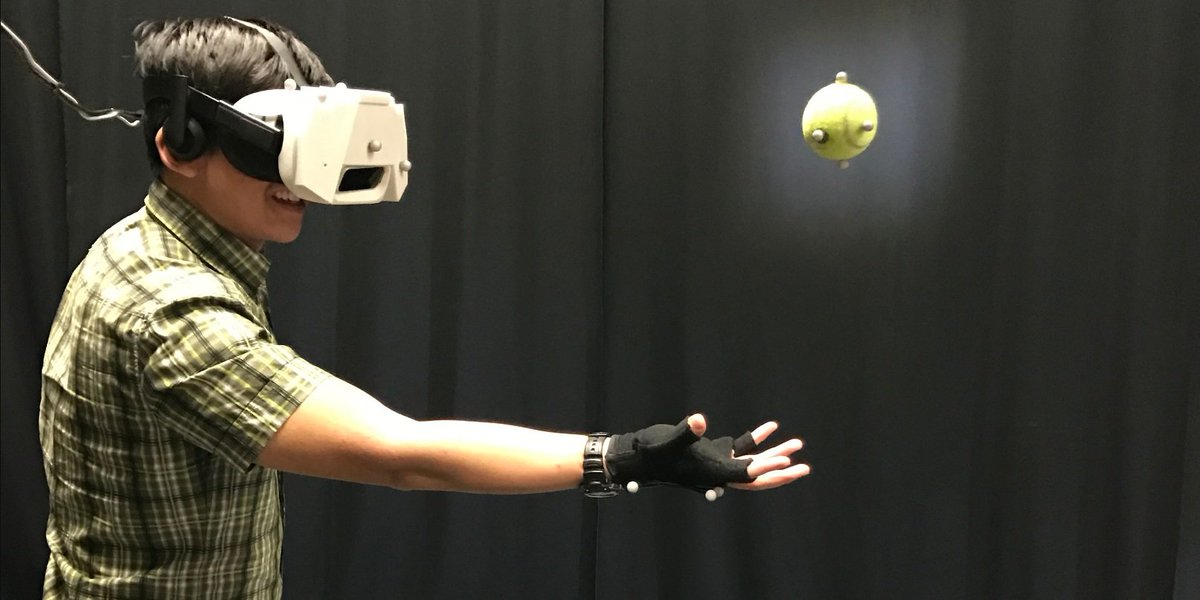 VR motion tracking narrows the gap between real and digital
Two researchers attached small tracking nodes to a tennis ball and tossed it to someone wearing a VR headset — who would not have been able to see the real ball flying at them.
The motion-tracking technology predicts the trajectory of the ball and a virtual ball soars towards the VR user, who catches the real ball and throws it back.
VR and AR headsets have ways of tracking stationary objects, and devices such as the HoloLens and the Occipital Bridge are capable of sensing depth.
Tracking moving objects, however, adds a whole new degree of motion and tactility to the VR experience.
For example, next time you play a Batman VR game, you could punch one of those wobbling dummies, which will look like baddies inside the headset.

TNW uses cookies to personalize content and ads to
make our site easier for you to use.
We do also share that information with third parties for
advertising & analytics.


@TheNextWeb: VR motion tracking narrows the gap between real and digital
Researchers at Disney have developed a way for the real and virtual worlds to cross over.

Two researchers attached small tracking nodes to a tennis ball and tossed it to someone wearing a VR headset — who would not have been able to see the real ball flying at them. The motion-tracking technology predicts the trajectory of the ball and a virtual ball soars towards the VR user, who catches the real ball and throws it back.

VR and AR headsets have ways of tracking stationary objects, and devices such as the HoloLens and the Occipital Bridge are capable of sensing depth.

Tracking moving objects, however, adds a whole new degree of motion and tactility to the VR experience. This could enhance digital experiences by engaging another sense — touch — and using real objects at the same time as virtual ones.

For example, next time you play a Batman VR game, you could punch one of those wobbling dummies, which will look like baddies inside the headset.

The tech has to track where the ball is, where it's going, and where it's likely to land, all at once. The researchers say the visualization "effectively increases user's senses but can also alter the user's strategy in catching."

Previous attempts to use motion in VR have included rigs that move the user instead, but, as we saw at SXSW, that's awkward at best.

via Gizmodo

Read next: Get your retro Pokémon fix with this Gameboy emulator for Apple Watch