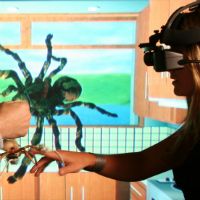 VR as an effective tool for exposure therapy & phobia treatment
During VRDC Fall 2017 in San Francisco today, executive director of Checkpoints Organisation and Doctor Jennifer Hazel answered these questions and more during a discussion that covered what makes a VR experience effective for phobia treatment from a psychological, physiological, and technical point of view.
Hazel went on to describe that phobias are classified as anxiety disorders, capable of being treated in many different ways- VR being one of them.
Even though the technology has been around for awhile and utilized by therapists, Hazel encouraged the developers in the room to take research studies that discuss therapy and VR with a grain of salt.
Exposure therapy in VR works because VR also elicits the same psychological response as a patient going through it physically.
Hazel encouraged developers to take her design considerations into account when going off to create therapeutic VR applications.
During VRDC Fall 2017 in San Francisco today, executive director of Checkpoints Organisation Jennifer Hazel lead a discussion that covered what makes

@RoblemVR: VR as an effective tool for exposure therapy & phobia treatment #VR #VirtualReality
VR may still be considered a new technology but its practical applications beyond entertainment is evident through innovative, therapeutic VR applications that have been around for years. What is the current climate of VR in phobia treatment, and how does VR treatment work?

During VRDC Fall 2017 in San Francisco today, executive director of Checkpoints Organisation and Doctor Jennifer Hazel answered these questions and more during a discussion that covered what makes a VR experience effective for phobia treatment from a psychological, physiological, and technical point of view.

Before starting, Hazel looked around the room and gestured to the attendees. "Is anyone in here terrified of clowns, spiders, or dogs?" she asked. Upon being met with silence, she resumed and we were greeted with a slide that featured a looping gif of Pennywise the clown. Nervous laughter fills the room as we all revel in the shared experience of not having clowns ruined for us during childhood.

But people do have very real phobias of clowns. Some may view certain phobias as "irrational" (and it's true, Hazel mentioned encountering someone with a phobia of knees), but the majority of them are justified. The fear of spiders or snakes is an evolutionary response. Hazel went on to describe that phobias are classified as anxiety disorders, capable of being treated in many different ways- VR being one of them.

Therapeutic VR treatment has a…
VR as an effective tool for exposure therapy & phobia treatment