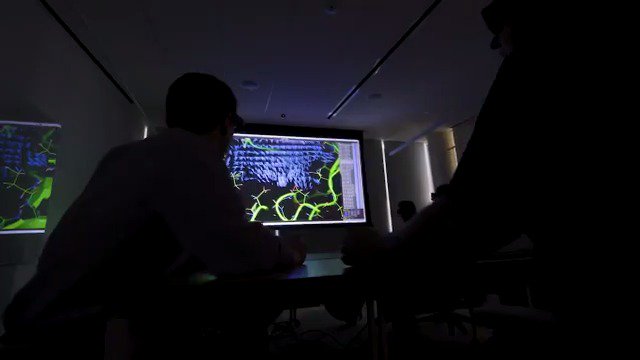 Bringing virtual reality to the lab
Viktor Hornak, an investigator in the Global Discovery Chemistry department at the Novartis Institutes for BioMedical Research (NIBR), is driving an effort to adapt VR tools for use in the drug design process.
He and his colleagues recognize a potential for VR to help drug hunters more quickly improve the molecular makeup of a new drug by smoothing communications between scientists and enabling them to see biological machinery more clearly.
Video of Virtual reality in drug discovery – – From games to science – Hornak and his colleagues decided to give VR a whirl the instant the technology became available on the consumer market in 2016.
In VR, I'm the size of the drug and I'm looking at the protein interactions around me," says Hornak.
By developing an in-house prototype VR system for drug discovery at this early stage, Hornak and his colleagues are able to demonstrate the potential value of VR to developers of existing 2-D molecular visualization tools.
Novartis researchers want to use the technology to help them design new drugs.

@NovartisScience: #Virtualreality allows scientists to become the size of a drug and see protein interactions
Body: 

Back in the 1950s, scientists created models of proteins using wires and blocks to visualize molecular machinery. The models helped them understand how proteins work and interact with drugs. Later, computer graphics replaced wire models, adding richness and precision but losing a dimension.

Now drug hunters at Novartis are working to bring that third dimension back, only instead of using wires and blocks, they are using virtual reality (VR), which immerses users in a digitally rendered alternate world.

Viktor Hornak, an investigator in the Global Discovery Chemistry department at the Novartis Institutes for BioMedical Research (NIBR), is driving an effort to adapt VR tools for use in the drug design process. He and his colleagues recognize a potential for VR to help drug hunters more quickly improve the molecular makeup of a new drug by smoothing communications between scientists and enabling them to see biological machinery more clearly.

 

Video of Virtual reality in drug discovery

From games to science

Hornak and his colleagues decided to give VR a whirl the instant the technology became available on the consumer market in 2016. For about USD 700, they had all they needed to get started…with gaming.

But for drug discovery, the off-the-shelf technology was about as interesting as a smart TV with no internet connection. "It's just the hardware," says Hornak. "There's…