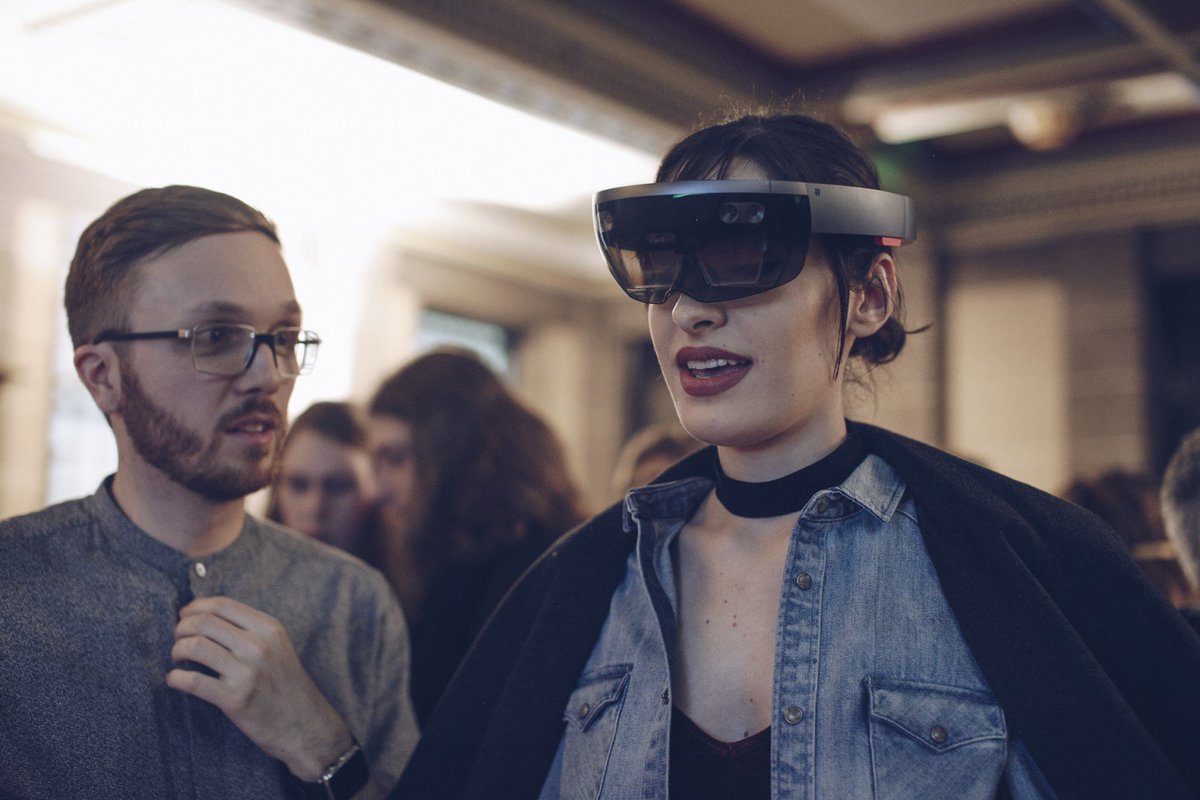 Virtual Fitting Rooms With The HoloLens
The world's first ever holographic dressing room launched at London Fashion Week earlier this year thanks to a collaboration with designer Sabinna Rachimova, Pictofit, The Fashion Innovation Agency, and Fashion Scout.
The mixed reality dressing room she brought to London Fashion Week was just another way for the designer to enhance the consumer experience.
At the show, guests had the opportunity to mix and match pieces from Sabinna's season 004 Collection with the swipe of a finger on a holographic model.
While the chance to be a part of the world's first ever holographic dressing room has passed, Sabinna has a lot more up her sleeve.
You can keep an eye on her upcoming collaborations as well as her stunning collection of knit pieces on the innovative designer's website.
It's official: the future is now. The world's first ever holographic dressing room launched at London Fashion Week earlier this year thanks to a collaboration with designer Sabinna Rachimova, Pictofit, The Fashion Innovation Agency, and Fashion Scout.

@VRScout: Virtual Fitting Rooms With The HoloLens via @presley_raine
It's official: the future is now. The world's first ever holographic dressing room launched at London Fashion Week earlier this year thanks to a collaboration with designer Sabinna Rachimova, Pictofit, The Fashion Innovation Agency, and Fashion Scout.

The Russian-born, Austrian-raised Sabinna has always done things her own way; she is known for her unique "buy now, see now" business model during the showing of her runway collections. She produces enough of the clothing in advance so that if consumers at her shows like what they see, they can leave the show with the piece in their hands. The mixed reality dressing room she brought to London Fashion Week was just another way for the designer to enhance the consumer experience.

"As a brand that always questions existing patterns it is a big honor to partner with FIA for the world's first augmented reality shopping experience. It is important to show the opportunities of fashion and tech collaborations. It is not only revolutionary, but it improves the overall fashion experience for my customers. It is not about throwing away existing patterns, it is about taking approved methods, adding something absolutely innovative and new, mixing it all together and creating something unique that respects the past, but is excited about the future," said the designer.

At the show, guests had the opportunity to mix and match pieces from Sabinna's season 004 Collection with the swipe of a finger on a holographic model. Every individual piece was captured by calibrated light sources and 64 high resolution DSLR cameras, and users were able to swipe through pieces using the HoloLens.

If that wasn't cool enough, guests were also able to enter a "virtual fitting room" in which they could see how the clothes would look on a virtual version of themselves. The clothes adapted to the size and shape of the user's body so they could see what the piece would actually look like on in real life.

Pictofit CEO, Stefan Hauswiesner, believes that AR will have a big impact on how people use fashion in the future. "Augmented reality has the power to change how we interact with fashion. From the outfit decision in the morning to buying clothes online, we want to see how we are going to look. We want to be inspired, try different combinations and ask our friends what they think."

Behind the scenes footage of the fashion forward collaboration can be seen below .

While the chance to be a part of the world's first ever holographic dressing room has passed, Sabinna has a lot more up her sleeve. You can keep an eye on her upcoming collaborations as well as her stunning collection of knit pieces on the innovative designer's website.

Image Credit: Sabinna