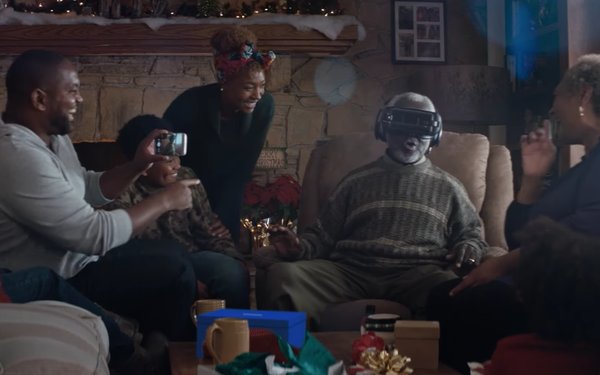 Samsung Pushes VR In Real World 11/29/2016
Publishing & Publishers Publishers Daily The Daily Blog Publishing Insider Supply Side Insider Native Insider
Media Buying/Planning/Research & The Media MediaDailyNews Audience Buying Insider Metrics Insider Research Brief TelevisionNewsDaily TVBlog TV Watch TV Everywhere
Samsung is looking to make this holiday season a virtual one, with a heavy push for its Virtual Reality headsets through the holiday season.
Recently Concluded OMMA Denver November 17, 2016, CO TV Insider Summit October 16 – 19, 2016, Mohonk Publishing Insider Summit October 10 – 13, 2016, Austin OMMA Bots & Chat September 29, 2016, NYC OMMA Social September 29, 2016, NYC OMMA VR/AR September 28, 2016, NYC OMMA Video September 28, 2016, NYC OMMA Programmatic September 27, 2016, NYC OMMA Awards September 26, 2016, NYC OMMA at Advertising Week September, 2016, NYC Digital Out of Home Awards September 14, 2016, NYC
The holiday season, we want to bring that power to connect, delight, and inspire to everyone, and to show them what's possible with our mobile products."
Samsung Pushes VR In Real World – 11/29/2016

@RickKing16: Samsung Pushes #VR In Real World
Samsung is looking to make this holiday season a virtual one, with a heavy push for its Virtual Reality headsets through the holiday season. 

Over the Thanksgiving weekend, Samsung launched a video ad in heavy rotation showing different families gifting Samsung Gear VR headsets to other family members, then watching them react upon using them. As the receivers put on the headsets, they react in wonder to the things around them (unseen by the audience), reaching out to touch certain objects and jumping back from other surprises. Onscreen text encourages people to "Give the gift of Galaxy."

"At Samsung, we believe that technology is so much more than a device — it's an experience," wrote Samsung Electronics USA chief marketing officer Marc Mathieu in a letter explaining the campaign. "This holiday season, we want to bring that power to connect, delight, and inspire to everyone, and to show them what's possible with our mobile products."

To jumpstart VR adoption, Samsung over the Black Friday/Cyber Monday weekend was offering a free Gear VR headset and bonus content free with the purchase of a Galaxy S7 edge or Galaxy S7 mobile device. 

The company is also getting into the holiday spirit by offering a VR experience of Santa's sleigh ride. Details of how consumers will be able to partake in that experience were not immediately available. 

"We want this holiday season to be special for all our customers, and we're using Samsung technology to make it happen — one smile, one gift, and one magical experience at a time," Mathieu wrote.