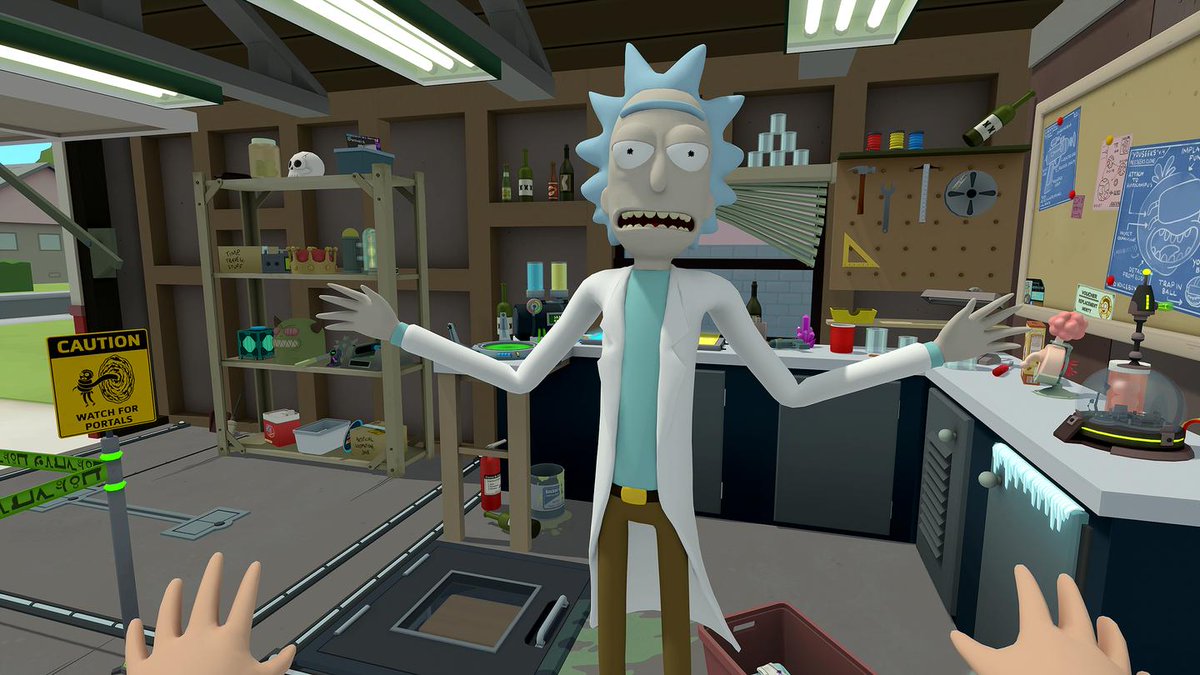 'Rick and Morty' Is Dropping a Stoneriffic VR Game on 4/20
Beloved Adult Swim sci-fi sitcom Rick and Morty is squanching to a virtual reality headset near you on April 20.
The game is reminiscent of Owlchemy Labs' dryly absurd Job Simulator, but with Rick and Morty settings and co-creator Justin Roiland's palette of voices.
Rick and Morty Virtual Rick-Ality isn't Roiland's first foray into VR.
Players are interacting with the world of Rick and Morty in a way only possible in virtual reality, and they love it!"
Rick and Morty Virtual Rick-Ality will be available on HTC Vive and Oculus Rift headsets on Steam and Oculus Home for $29.99 on Thursday, April 20.
Adult Swim Games and Owlchemy Labs have produced the most realistic—and only!—simulation of the Rickstaverse ever.

@CreatorsProject: .@RickandMorty is dropping a stoneriffic virtual reality game on 4/20:
Beloved Adult Swim sci-fi sitcom Rick and Morty is squanching to a virtual reality headset near you on April 20. 

Like the Instagram-based Rick and Morty Rickstaverse, Rick and Morty Virtual Rick-Ality seems to be an exploration in cramming as many subplots and Easter eggs into a new medium as possible. It opens in Rick's garage lab, and allows players to explore the universe by grabbing stuff, throwing stuff around, and hopping through portals. The game is reminiscent of Owlchemy Labs' dryly absurd Job Simulator, but with Rick and Morty settings and co-creator Justin Roiland's palette of voices.

Even the press release from Adult Swim is simply dripping with references to show, particularly fan favorite episode Interdimensional Cable. Players will be able to "Experience and interact with Rick and Morty in 3D, probe, prod, throw and smash iconic items like the Plumbus, and teleport around rooms to find hidden objects." 

The release also advertises real fake doors!

Rick and Morty Virtual Rick-Ality isn't Roiland's first foray into VR. Last year he teamed up with Epic Games alum Tanya Watson to create the VR studio Squanchtendo. The fledgling studio released its debut game, Accounting, in September, and it's both innovative and hilarious. "My approach to game design is combining really strong story and really strong characters with really good gameplay," he explained to Creators at the time. 

Owlchemy Labs CEO Alex Schwartz is confident it will. "We really believe fans are going to lose their minds at what we've developed," he says in a statement. "It's been an incredible experience to develop for one of our favorite shows and see the joy on players' faces when they get to explore Rick's garage in VR, physically step through portals, and interact naturally with their hands in the world they're already so familiar with. Players are interacting with the world of Rick and Morty in a way only possible in virtual reality, and they love it!"

Roiland and co-creator Dan Harmon seem to be on a minor holiday-based schedule when it comes to the burp-loved franchise, since they surprised a salivating audience with the first episode of Season 3 on April Fools day earlier this month, and are launching this stoner-friendly VR sojourn on the high holiday 4/20.

Rick and Morty Virtual Rick-Ality will be available on HTC Vive and Oculus Rift headsets on Steam and Oculus Home for $29.99 on Thursday, April 20. Rick and Morty (probably) returns to Adult Swim this summer.

Related:

Rick and Morty's Surprise Episode Inspired a Petition Aimed at McDonald's

Rick and Morty's Awesome Intro Gets 8-Bit-ified

The Painful Secret Behind Rick and Morty's Burps