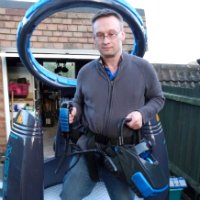 The Leicester native has spent years restoring and preserving old VR game machines, especially Virtuality machines, and you can read about some of his pioneering work on his RetroVR site .
It's a fun read, especially for VR game developers who are curious about how VR games tracked movement before motion controls became commonplace.
Preserving the dream of the '90s Virtuality VR game tech
Marson brought a Virtuality 1000 unit to the recent Play Expo Blackpool event in England, and now Kotaku UK has published an interesting firsthand account (with comments from Simon) of what it's like to play early VR games on a machine that's nearly three decades old.
"I ask Simon what on earth magnets have to do with VR, and he patiently explains how this vintage Virtuality 1000 series actually works," recounts writer Lewis Packwood.
Read the full article, click here.
---
@RickKing16: "Preserving the dream of the '90s Virtuality #VR game tech"
---
Kotaku UK finds a VR preservationist at a U.K. games festival and shares his story of studying and maintaining some of the earliest VR game machines, including the magnet-based Virtuality 1000.
---
Gamasutra