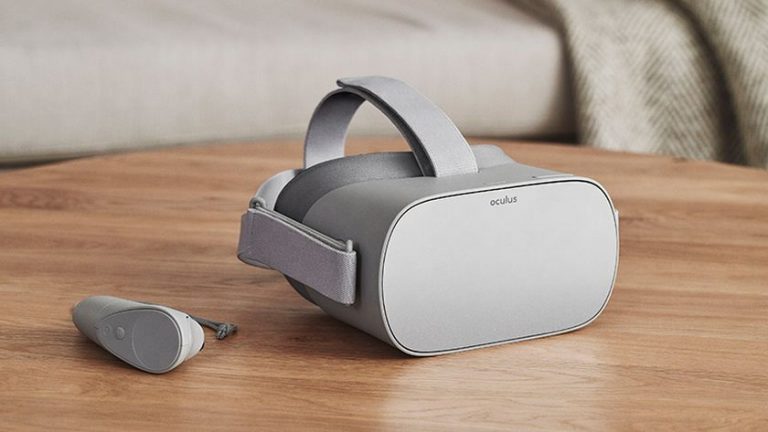 Oculus Go is a standalone VR headset coming in early 2018 for just $199
The Oculus Rift VR headset is going to be joined soon by a smaller brother that will not require the use of a smartphone or PC.
The Oculus Go headset is supposed to be very light and will have a high-resolution LCD screen, along with lenses that are supposed to offer owners "a wide field of view with significantly reduced glare".
While the headset is a standalone product, developers who are making apps and games for the Samsung Gear VR (which uses Oculus tech) will be able to port those apps to the Oculus Go.
At the moment, that's all we have on this new product, but Oculus promises more information will be revealed before it is released early next year.
Oculus also revealed information about another next-generation standalone VR hardware product, with the codename "Santa Cruz".
The Oculus Go is designed to be a bridge between smartphone-based VR headsets and the more expensive PC-based VR products like the Oculus Rift.

@AndroidAuth: #oculus Go is a standalone VR headset coming in early 2018 for just $199
This article originally appeared on our sister site, VRSource.com.

The Oculus Rift VR headset is going to be joined soon by a smaller brother that will not require the use of a smartphone or PC. The Oculus Go, revealed today as part of the Oculus Connect 4 developer conference, is slated to be released in early 2018 and will cost $199.

See also: Best upcoming Oculus Rift games

The announcement was made by none other than Facebook's CEO Mark Zuckerberg (Facebook, of course, is the parent company of Oculus). The Oculus Go headset is supposed to be very light and will have a high-resolution LCD screen, along with lenses that are supposed to offer owners "a wide field of view with significantly reduced glare". Engadget added that the displays will have a resolution of 2,560 x 1,440

Oculus Go will also come with integrated speakers but it will stil have a 3.5 mm headphone jack. While the headset is a standalone product, developers who are making apps and games for the Samsung Gear VR (which uses Oculus tech) will be able to port those apps to the Oculus Go. The company says that the best of its mobile content will be available for the Oculus Go for its launch.

At the moment, that's all we have on this new product, but Oculus promises more information will…
Oculus Go is a standalone VR headset coming in early 2018 for just $199