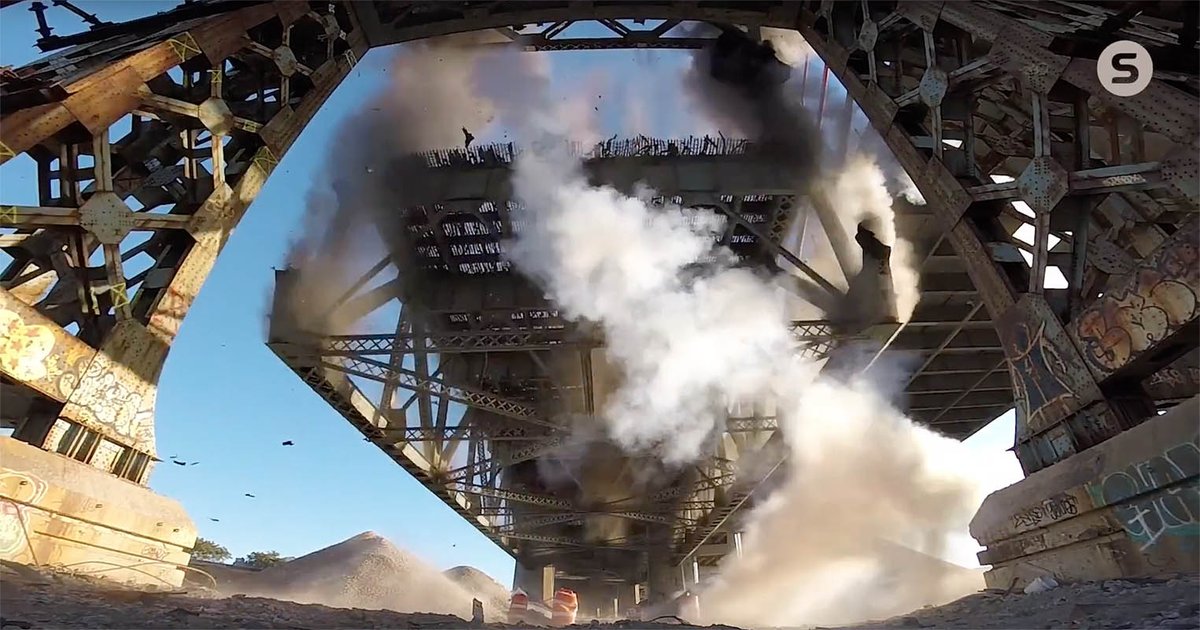 Watch the Demolition of NYC's Kosciuszko Bridge in Virtual Reality
The first of two spans of the new Kosciuszko Bridge opened to traffic on April 27 of this year: "…to build the first big, beautiful bridge in New York City since the Verrazano back in the 1960s is a dream come true…," said Larry Gillman, Vice President of Operations and…
The first video, seen below, focuses on the general demolition process of the old bridge, which took place on October 1, 2017: – – Over 900 explosives were strategically placed around the structure, and used to bring down the bridge's 20 remaining truss spans, which were made from 22 million…
In this second video, interviews provide an in-depth look at the felling process in its entirety: – – And if that isn't enough, the following VR video really allows viewers to experience the felling from a number of unique vantage points, including beneath the bridge.
The first span of the new Kosciuszko Bridge is currently carrying the traffic load in both directions between Queens and Brooklyn.
Next, check out Aerial Drone Footage of the Old Kosciuszko Bridge as it Comes Down in a Demolition and discover 10 fun facts about the new Kosciuszko Bridge.
Here's your chance to watch the demolition (energetic felling) of the old Kosciuszko Bridge in virtual reality. These three videos document the process:

@untappedcities: #NYC Watch the demolition of the old Kosciuszko Bridge unfold in Virtual Reality
Image via NYGovCuomo

We've been keeping tabs on the progress of the Kosciuszko Bridge for sometime now. Earlier this year, we caught sight of its main span floating down the East River, and in October, we reported on the controlled demolition ("energetic felling") of its remaining spans. If you missed the news back then, here's your chance to watch the demolition from the comfort of your own home: we were recently tipped off to a series of videos documenting the process from start to finish.

The first of two spans of the new Kosciuszko Bridge opened to traffic on April 27 of this year: "…to build the first big, beautiful bridge in New York City since the Verrazano back in the 1960s is a dream come true…," said Larry Gillman, Vice President of Operations and Project Director of Skanska USA Civil.

The first video, seen below, focuses on the general demolition process of the old bridge, which took place on October 1, 2017:

Over 900 explosives were strategically placed around the structure, and used to bring down the bridge's 20 remaining truss spans, which were made from 22 million pounds of steel. In this second video, interviews provide an in-depth look at the felling process in its entirety:

And if that isn't enough, the following VR video really allows viewers to experience the felling from a number of unique vantage points, including beneath the bridge. Grab a headset to…
Watch the Demolition of NYC's Kosciuszko Bridge in Virtual Reality