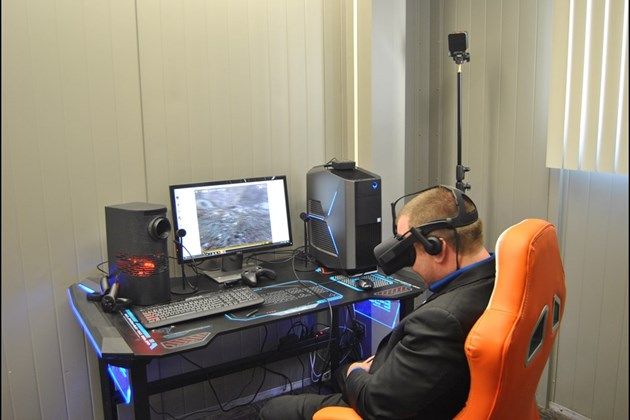 Northern College opens new virtual reality training facility
Northern College has opened a new virtual training facility at its Timmins campus.
The facility enhances Northern College's experience in technology training in five major program areas: construction, maintenance and electricity; industrial, mechanic and millwright; heavy duty equipment technician; general carpentry; and automotive technician.
Northern College's virtual training project started in the spring of 2016, when the college was provided with $219,000 by the Apprenticeship Enhancement Fund that is funded by the Ministry of Advanced Education, which was used to purchase equipment and software.
"The virtual reality training will help introduce students to the skills of their trades in a safe environment by acquiring the basic skills they need to know before moving to the use of the actual equipment," Heavens said.
Fred Gibbons, president of Northern College, hailed the acquisition of virtual training technology as a tremendous learning tool.
Equipment will allow students to train in their chosen field safely before entering the workplace.

@RoblemVR: Northern College opens new virtual reality training facility #VR #VirtualReality
Northern College has opened a new virtual training facility at its Timmins campus.

The facility enhances Northern College's experience in technology training in five major program areas: construction, maintenance and electricity; industrial, mechanic and millwright; heavy duty equipment technician; general carpentry; and automotive technician.

Northern College's virtual training project started in the spring of 2016, when the college was provided with $219,000 by the Apprenticeship Enhancement Fund that is funded by the Ministry of Advanced Education, which was used to purchase equipment and software.

It includes hi-tech, multi-lensed, 3-D video cameras, swivel chairs, a monitor and virtual reality glasses, which students use to access various training modules that give them a 360-degree view of the workplace.

For interactive virtual reality, hand sets and toggles can be used to manipulate equipment to perform a function.

Christine Heavens, Northern's executive director of community, business development and employment services, said students will use virtual reality to train in their chosen course of study.

"The virtual reality training will help introduce students to the skills of their trades in a safe environment by acquiring the basic skills they need to know before moving to the use of the actual equipment," Heavens said.

Primero Mining Corp. provided the college access to its Black Fox mine site, outside of Timmins, to develop the virtual reality content for the underground mining experience.

"Mining environments are dark, wet, and then can be dangerous if not properly instructed on how to work underground," said Dan Gagnon, Primero's mine manager. "Virtual training will help prepare a student before entering a mine and minimize injury."

Fred Gibbons, president of Northern College, hailed the acquisition of virtual training technology as a tremendous learning tool.

"For us it represents an opportunity to improve our teaching and training," said Gibbons. "This is a powerful technology and we are only limited by our imagination in how we can use and apply it for learning at Northern College."

"We are on the cusp of something really exciting as an institution of higher learning," he added. "The potential for incorporating virtual technology many programs taught at Northern is unlimited."
Northern College opens new virtual reality training facility