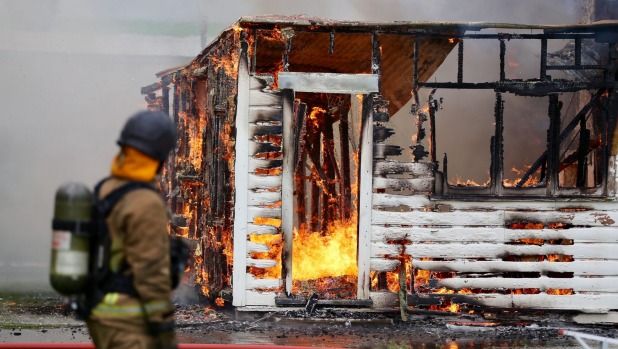 New Zealand Is Now Using VR to Help People Escape Burning Homes
The New Zealand Fire Service has burned down an abandoned home to create a virtual reality experience called Escape My House, hoping VR immersion will help prepare homeowners for the worst.
Producers remotely filmed the blazing house with fireproof 360-degree camera rigs the country's fire service started testing last year.
Palmerston North fire service training officer Chris Kennedy said 61 percent of New Zealanders claim they have a fire escape plan, but only 29 percent have practiced them, Stuff.co.nz reported.
Kennedy added how it's important residents can handle a house fire like "second nature."
Escape My House runs on smartphones, computers, VR goggles and Google Cardboard.
The New Zealand Fire Service has debuted a virtual reality experience to prepare homeowners for the worst.

@RickKing16: New Zealand Is Now Using #VR to Help People Escape Burning Homes
The New Zealand Fire Service has burned down an abandoned home to create a virtual reality experience called Escape My House, hoping VR immersion will help prepare homeowners for the worst. Producers remotely filmed the blazing house with fireproof 360-degree camera rigs the country's fire service started testing last year.

In the app, you're given options on how to escape the home, along with explanations on why some exits — like a painted shut window — aren't safe. Or tips like how "closing doors behind you can save valuable time."

The experience also presents gauges that warn you how hot structures can become. Floors can burn at 150-degrees while ceilings can climb above 900-degrees Celcius.

Palmerston North fire service training officer Chris Kennedy said 61 percent of New Zealanders claim they have a fire escape plan, but only 29 percent have practiced them, Stuff.co.nz reported.

"This will hopefully change those stats around for us," he told Stuff.co.nz. Kennedy added how it's important residents can handle a house fire like "second nature."

Firefighters are currently promoting the app with hidden painted rocks which Palmerston North locals can redeem for Google Cardboard headsets.

Escape My House runs on smartphones, computers, VR goggles and Google Cardboard. You can learn more about the experience by clicking here.

You can also watch some footage in a 360-degree preview below.

Image Credit: Murray Wilson / New Zealand Fire Service
New Zealand Is Now Using VR to Help People Escape Burning Homes