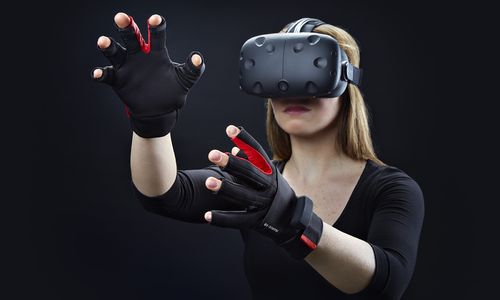 Manus VR Gloves, Literally Hands On
The glove now has a more elegant and clean design, except for what looks like a rectangular growth on your wrist.
Gestures made with the gloves are independent from the Vive controllers, but all of the data comes together in the game engine.
Manus VR would probably have to create a bracelet (as it has with HTC Vive controllers) with constellation tracking to combine the gloves with Oculus Touch.
But Manus VR continues its work to make your hands the controller, with its VR gloves, under development and making their way toward final developer kit versions later this year.
I felt as if I was wearing lightweight workout gloves, even with the Vive controllers strapped onto my wrists.
Read the full article, click here.
---
@RickKing16: "Manus #VR Gloves, Literally Hands On"
---
We went hands on with the Manus VR gloves and spoke with the company's CTO and CEO about its current and future roadmap.
---
Manus VR Gloves, Literally Hands On