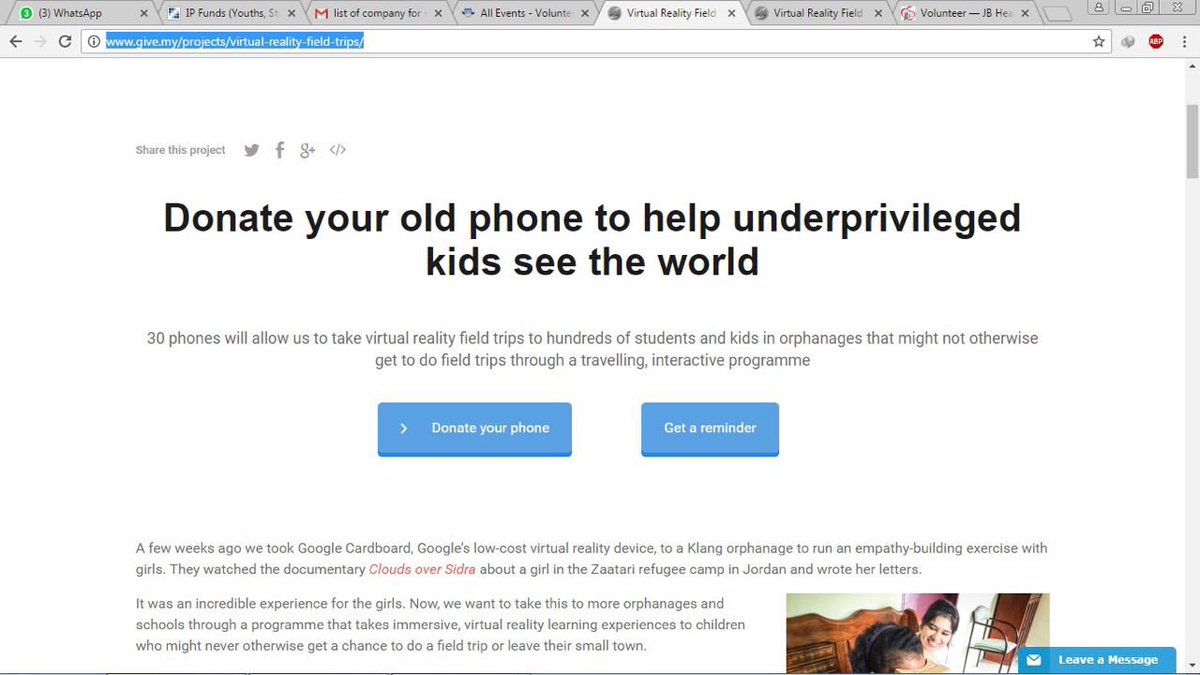 Virtual Reality Field Trips
Donate your old phone to help underprivileged kids see the world
We need mobile phones to put inside the Google Cardboard devices.
Step 1: Specify your contribution amount for Virtual Reality Field Trips
If your phone isn't listed just check which Android version you have.
30 phones will allow us to take virtual reality field trips to hundreds of students and kids in orphanages that might not otherwise get to do field trips through a travelling, interactive programme
Crowdfunding for education. Directly support educational projects across Malaysia

@kellyhasend: In case u guys have extra phones to be donated..
A few weeks ago we took Google Cardboard, Google's low-cost virtual reality device, to a Klang orphanage to run an empathy-building exercise with girls. They watched the documentary Clouds over Sidra about a girl in the Zaatari refugee camp in Jordan and wrote her letters.

It was an incredible experience for the girls. Now, we want to take this to more orphanages and schools through a programme that takes immersive, virtual reality learning experiences to children who might never otherwise get a chance to do a field trip or leave their small town.

Google is providing us 30 units of Google Cardboard, a product that allows us to turn a mobile phone into a virtual reality device providing a 360-degree view of anything from the Zaatari refugee camps to the bottom of the ocean.

Here's where we need you. We need mobile phones to put inside the Google Cardboard devices. Both Android and iPhones (iPhone 5 and above) work.

Everyone who donates a phone will get an impact report from the project that includes a description of the activities, which schools and orphanages were serves, and some photos of the virtual reality field trips!

Sorry! We can't use phones with cracked screens.

My phone works but the battery doesn't. Does that work?

Unfortunately, we don't have any funding to fix phones or buy replacement parts so we wouldn't be able to make good use of it.