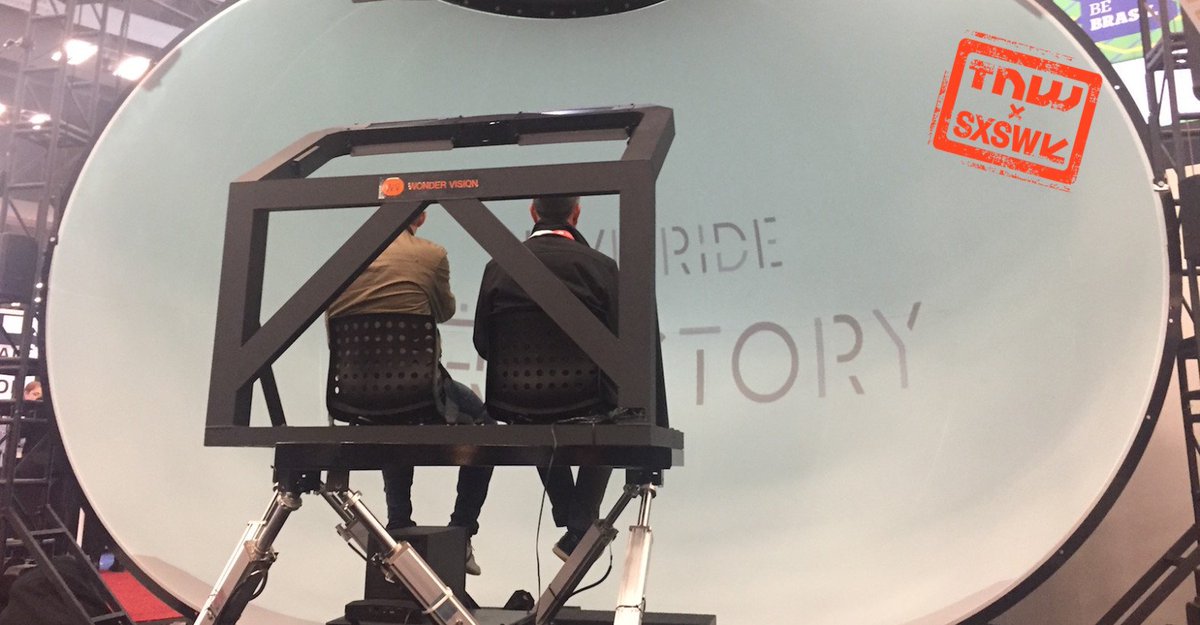 I rode an 8K "VR" rollercoaster and it was beautifully awkward
The 8K VR ride was more like a pleasant stroll through Tokyo — albeit with a lot of wind in your hair.
The ride uses 8K, an absurdly large resolution you're not likely to see in mainstream media.
Sometimes the ride would stop moving so the viewers could appreciate vistas of Tokyo, and these were more interesting.
As odd of an experience as it is, the 8K ride did feel impressive, in scope if not in motion.
8K resolution is gorgeous, and the feedback of the ride felt exhilarating for a while before the constant wind made it annoying.

TNW uses cookies to personalize content and ads to
make our site easier for you to use.
We do also share that information with third parties for
advertising & analytics.


@TheNextWeb: I rode an 8K "VR" rollercoaster and it was beautifully awkward #SXSW
We've seen some VR experiences here at SXSW that will make you sick, but there was one which took you on a nice trip instead. The 8K VR ride was more like a pleasant stroll through Tokyo — albeit with a lot of wind in your hair.

What is it?

The ride uses 8K, an absurdly large resolution you're not likely to see in mainstream media. When I say "absurdly large," I mean that the ride takes to most impressive, "surely compensating for something" media centers you can think of and puts them to shame.

The ride may have the word "VR" in its name, but there are no headsets involved here. The image — in this case, a five-minute long tribute to Tokyo — is projected onto the WonderVision Sphere 5.2, a 17 foot-wide dome-shaped screen. The motion mechanism simulates movement — bouncing, tilting you side to side and raising you up and down to simulate the feeling of flying.

Sometimes the ride would stop moving so the viewers could appreciate vistas of Tokyo, and these were more interesting. The omnipresent wind still blows from the vent on the top of the mechanism when the viewer is still, which can get annoying very quickly.

What makes it cool?

As odd of an experience as it is, the 8K ride did feel impressive, in scope if not in motion. 8K resolution is gorgeous, and the feedback of the ride felt exhilarating for a while before the constant wind made it annoying.

I did shout one request as I clambered down: Armrests. The motion mechanism is functional, but awkward and uncomfortable to use. Hopefully, in future, this can be improved.

When is it available?

It isn't, and probably won't be for the foreseeable future. When asked how it could be improved, on-site staff said they're still hoping to improve the visuals.

Read next: These shoes have a smartphone app and now I hate the future
I rode an 8K "VR" rollercoaster and it was beautifully awkward