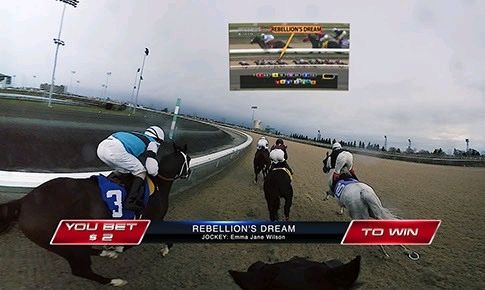 Eyelive Media Broadcasts From The Jockey's POV In Virtual Reality
Last month, Eyelive Media broadcasted a 360-degree virtual reality livestreamed view of a horse race from a jockey's point-of-view.
Eyelive Media's horse racing experiment brings users a first-hand live view of the action.
Canadian jockey, Emma-Jayne Wilson became the first competitive athlete to have that perspective streamed live during a sanctioned event that was held at Woodbine Racetrack in Toronto.
"This will be great for me, to be able to review my own races and exactly what horse racing need right now for the fans."
"We believe this new experience will change the game for horseracing worldwide, and attract millions of new fans to the sport," Eyelive Media CEO David Baker said in a statement.
Eyelive Media demonstrated a 360-degree VR horse race, streamed live from the jockey's point-of-view in at Woodbine Racetrack in Toronto.

@RickKing16: Horse Racing Streamed Live In 360-Degree #VirtualReality #vr
The boundaries of live streaming sports seem to be pushed further by each day. Last month, Eyelive Media broadcasted a 360-degree virtual reality livestreamed view of a horse race from a jockey's point-of-view. The company used their own on-site custom setup and app for the broadcast.

Eyelive Media's horse racing experiment brings users a first-hand live view of the action. The company's goal is to provide the best view in the house — directly from the athlete.

Canadian jockey, Emma-Jayne Wilson became the first competitive athlete to have that perspective streamed live during a sanctioned event that was held at Woodbine Racetrack in Toronto.

Get The Latest Sports Tech News In Your Inbox!

Executives from Eyelive, Woodbine and betting operator PMU in France were able to experience the ride on smartphones, tablets, computers and VR headsets.

"The first time I saw my view again, in VR, all I could say was wow!" Wilson said in a statement. "This will be great for me, to be able to review my own races and exactly what horse racing need right now for the fans."

"We believe this new experience will change the game for horseracing worldwide, and attract millions of new fans to the sport," Eyelive Media CEO David Baker said in a statement. "Who wouldn't want to safely ride in the 'jockey'…
Eyelive Media Broadcasts From The Jockey's POV In Virtual Reality