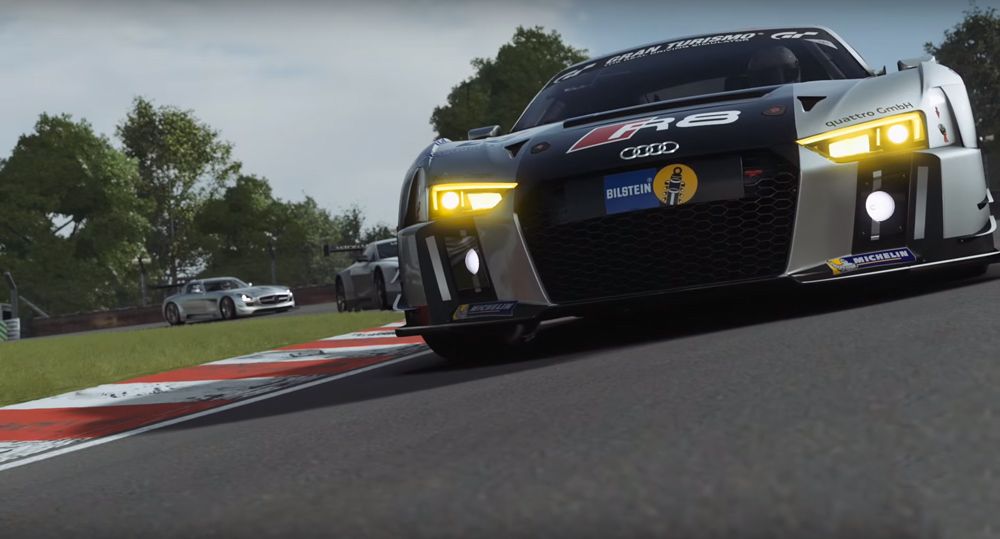 E3 2017: Gran Turismo Sport's VR Mode Only Supports One-On-One Races
When we heard the latest game in the series, Gran Turismo Sport, would support PlayStation VR (PSV), we set our expectations high.
Sadly, Gran Turismo Sport's VR Tour mode is sounding increasingly limited.
We already knew that the entire game wouldn't support VR but speaking to Rooster Teeth at E3 last week, legendary series producer Kazunori Yamauchi of developer Polyphony Digital revealed that the game would only support one-on-one races in VR.
That's disappointing to hear, especially considering Gran Turismo Sport was originally meant to be a part of PSVR's launch window line-up late last year. We've seen other PSVR racing games like Driveclub VR and Dirt Rally offer fairly robust experiences compared to their original versions, though they admittedly take a hit in the visuals department.
We've gone hands-on with Gran Turismo Sport at E3 this week, so we'll soon be able to tell you if the sacrifices to gameplay have meant the game's impressive presentation remains intact.
The release of Gran Turismo Sport is finally nearing. Sadly, the game's only set to support one-on-one racing with its PlayStation VR (PSVR) mode.

@RickKing16: Gran Turismo Sport's #VR Mode Only Supports One-On-One Races
The Gran Turismo series is known for its hyper-realistic racing simulation, stunning graphics and encyclopedic list of cars and tracks. Over the years it's earned its status as one of the most respected racing franchises on the planet. When we heard the latest game in the series, Gran Turismo Sport, would support PlayStation VR (PSV), we set our expectations high.

Sadly, Gran Turismo Sport's VR Tour mode is sounding increasingly limited. We already knew that the entire game wouldn't support VR but speaking to Rooster Teeth at E3 last week, legendary series producer Kazunori Yamauchi of developer Polyphony Digital revealed that the game would only support one-on-one races in VR.

Yamauchi noted that VR's "really high rendering loads" made it hard to support the entire game in VR. Without PSVR you can play with a huge number of cars on the track across a variety of modes. It's not all bad news though; all of the 177 cars in the game can be driven in VR, though only a third of the 19 tracks will be available.

That's disappointing to hear, especially considering Gran Turismo Sport was originally meant to be a part of PSVR's launch window line-up late last year. We've seen other PSVR racing games like Driveclub VR and Dirt Rally offer fairly robust experiences compared to their original versions, though they admittedly take a hit in the visuals department. We've gone hands-on with Gran Turismo Sport at E3 this week, so we'll soon be able to tell you if the sacrifices to gameplay have meant the game's impressive presentation remains intact.

Gran Turismo Sport is releasing this fall on PS4. Perhaps once it's out Polyphony Digital can follow up with a full VR game.

Tagged with: e3, gran turismo sport
E3 2017: Gran Turismo Sport's VR Mode Only Supports One-On-One Races