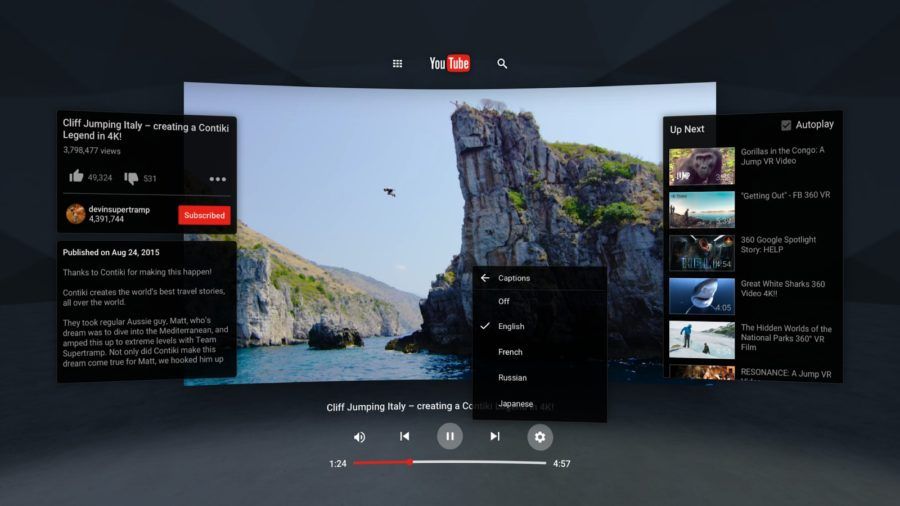 Google slashes needs for YouTube creators working on VR content
Google slashes needs for YouTube creators working on VR contentPosted on June 23, 2017 in Connected Devices Google is launching a new video standard for YouTube creators that want to shoot VR content.
The new standard, VR180, records 180-degree videos, reducing the amount of specialized software and hardware needed to shoot in virtual reality.Not all VR content needs to have 360-degree viewing, especially if the content is designed to be viewed as the YouTuber would see it.
It won't be as immersive as 360-degree content, with black screen if you turn, but it should be a meet-in-the-middle compromise for YouTubers that don't want to go through the hassle of purchasing high-end equipment.See Also: How recruiters are employing VR to impress candidatesThe reduction in size allows 180-degree videos to be uploaded in 4K resolution, YouTube's highest resolution standard.
It also offers a stereoscopic view, giving videos depth that is not available in 360-degree videos, which are usually shot with equipment that centers the action.Lenovo, LG, and Yi are planning to launch cameras that record 180-degree content.
Having YouTubers that are already popular start uploading with VR helps to break that barrier, even if the VR content is not as professionally shot as other content on the Daydream platform.
Google is launching a new video standard for YouTube creators that want to shoot VR content. The new standard, VR180, records 180-degree videos, reducing the amount of specialized software and hardware needed to shoot in virtual reality.

@YarmolukDan: #Google slashes needs for #YouTube creators working on #VR content
Google is launching a new video standard for YouTube creators that want to shoot VR content. The new standard, VR180, records 180-degree videos, reducing the amount of specialized software and hardware needed to shoot in virtual reality.

Not all VR content needs to have 360-degree viewing, especially if the content is designed to be viewed as the YouTuber would see it. It won't be as immersive as 360-degree content, with black screen if you turn, but it should be a meet-in-the-middle compromise for YouTubers that don't want to go through the hassle of purchasing high-end equipment.

See Also: How recruiters are employing VR to impress candidates

The reduction in size allows 180-degree videos to be uploaded in 4K resolution, YouTube's highest resolution standard. It also offers a stereoscopic view, giving videos depth that is not available in 360-degree videos, which are usually shot with equipment that centers the action.

Lenovo, LG, and Yi are planning to launch cameras that record 180-degree content. Though no prices are available yet, Google said costs should be similar to a mid-range point and shoot.

Google is pushing hard to make VR relevant to mainstream audiences. It launched Daydream last year, a platform for developers to launch VR specific apps. The company also launched Daydream VR, a headset to pair with the Pixel and Pixel XL smartphones.

YouTube is the best way to attract the mainstream audience, which may not want to splash out on a headset straight away. Having YouTubers that are already popular start uploading with VR helps to break that barrier, even if the VR content is not as professionally shot as other content on the Daydream platform.

Global tech behemoth Google has quietly acquired the startup Eyefluence which tracks user eye movements in virtual reality environments. According to ZDnet, Google bought the Milpitas, CA-based firm for an undisclosed amount. Established in 2013, Eyefluence develops software that tracks eye movements for use in augmented and virtual reality applications. Google's motives for the acquisition weren't… Read more »

The cloud computing pricing war is nothing new. In 2014, Microsoft, Google and Amazon entered a fight with the aim to gobble up the biggest slice of the market share by matching each other's falling prices. What ensued was a price slashing spree in a few days' span, in some cases dropping cloud computing product premiums… Read more »

This week, French Tech, an organization dedicated to promoting innovation and technology in France, introduced its second global competition, with the goal of bringing the best tech entrepreneurs to France. The competition is called French Tech Ticket, and it is offered to non-French entrepreneurs from across the globe that might be interested in living in… Read more »
Google slashes needs for YouTube creators working on VR content