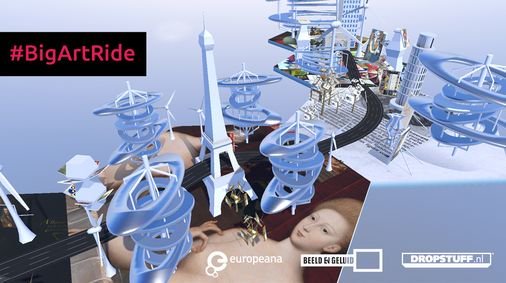 The #BigArtRide tour is a part of the Europeana280 campaign to launch Europeana Art History Collections – and will celebrate the Dutch Presidency of the EU.
During the Beta phase we are continually testing and improving this new version of our Europeana Collections and thematic Collection.
Europeana Foundation Prins Willem-Alexanderhof 5 2595 BE Den Haag Netherlands
This is a Beta release of Europeana Collections and our thematic Music and Art History Collections.
It will bring together two participants in different cities (one in the Netherlands, one elsewhere), invite them to get on their (stationary) bikes, put on virtual reality â Oculus Riftâ headsets, and navigate through a virtual city experiencing centuries of Europeâ s art along the way.
Read the full article, click here.
---
@GOettingerEU: "Excellent EU-supported project is coming Paris tomorrow. #BigArtRide combines culture & #VR"
---
Brought to the public by Europeana, the Dutch design studio DROPSTUFF.nl, the Netherlands Institute for Sound and Vision and Embassies of the Kingdom of The Netherlands across Europe. The #BigArtRide tour is a part of the Europeana280 campaign to launch Europeana Art History Collections – and will celebrate the Dutch Presidency of the EU. It…
---
#BigArtRide