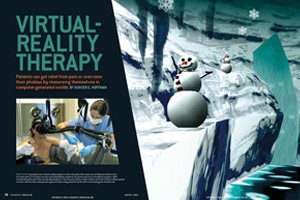 These Doctors are Incorporating VR into Pain Management
Work depicted was sponsored by the U.S. Army Research Laboratory (ARL).
Statements and opinions expressed and content included do not necessarily reflect the position or the policy of the Government, and no official endorsement should be inferred.
PC Magazine talks with Skip Rizzo about his Clinical VR work with soldiers suffering from PTSD.
The Doctors are Incorporating VR into Pain Management
Sara Preto Public Relations and Programs Manager (310) 301-5006
Work depicted here was sponsored by the U.S. Army Research Laboratory (ARL). Statements and opinions expressed and content included do not necessarily reflect the position or the policy of the Government, and no official endorsement should be inferred.

@ahier: Doctors using #VR for #pain management #PTSD Tx #VirtualReality via @USC_ICT #MedicalVR
PC Magazine talks with Skip Rizzo about his Clinical VR work with soldiers suffering from PTSD.

Sara Preto

Public Relations and Programs Manager

USC Institute for Creative Technologies

12015 Waterfront Drive

Playa Vista, CA 90094-2536

General Inquiries

(310) 574-5700 tel

(310) 574-5725 fax

Enter the ICT Press Portal >>

Work depicted here was sponsored by the U.S. Army Research Laboratory (ARL). Statements and opinions expressed and content included do not necessarily reflect the position or the policy of the Government, and no official endorsement should be inferred.