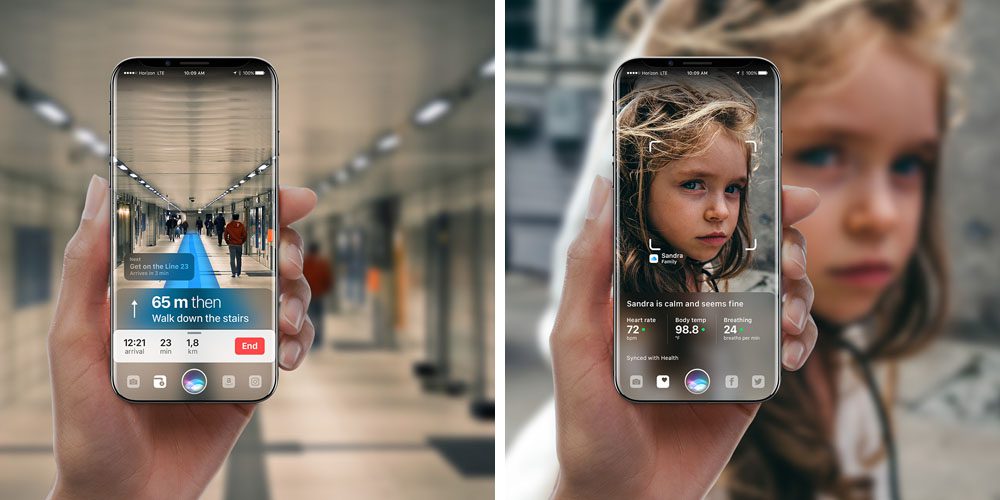 Comment: Until holodecks arrive, AR not VR will be where the action is
And there are a couple of Star Trek toys I think most of us would like to see: replicators and holodecks.
But while VR might be the first stepping stone toward holodecks, I think it's augmented reality rather than virtual reality that will be where the action – and the money – is …

Don't misunderstand me.

But VR will, I think, remain something of a niche market for some time yet.
I'm excited about Augmented Reality because unlike Virtual Reality which closes the world out, AR allows individuals to be present in the world but hopefully allows an improvement on what's happening presently.
So yes, perhaps Apple will figure out a way to make AR glasses that won't make us look like glassholes, but I see those as another niche market.
While I'm generally more of a hard-SF fan, I'm not above a little lighthearted fun where sci-fi is concerned – so I can enjoy a good Star Trek episode as much as the next person. And there are a couple of Star Trek toys I think most of us would like to see: replicators and holodecks.

@9to5mac: Comment: Until holodecks arrive, AR not VR will be where the action is
While I'm generally more of a hard-SF fan, I'm not above a little lighthearted fun where sci-fi is concerned – so I can enjoy a good Star Trek episode as much as the next person. And there are a couple of Star Trek toys I think most of us would like to see: replicators and holodecks.

Replicators as the kind of ultimate Amazon Prime, putting anything you might want into your hands instantly. Holodecks as a way to experience any sights and activities you could ever wish, without even having to leave the building.

But while VR might be the first stepping stone toward holodecks, I think it's augmented reality rather than virtual reality that will be where the action – and the money – is …

Don't misunderstand me. I do think that VR will completely transform gaming. Why have a two-dimensional experience, with lots of real-world distractions to pull you out of your make-believe world, when you can have a far more immersive 3D experience?

I'd go so far as to say that 2D desktop gaming will be almost entirely replaced by virtual reality within a few years, at least for the hardcore gamers. If you're sufficiently into gaming to buy a powerful computer, multiple monitors, controllers and so on, then a VR headset is not going to seem an unreasonable additional outlay. 2D gaming will be for the casual/occasional gamer.

Nor do I think VR is only about gaming. There will be a lot of other exciting VR applications coming along, I'm sure.

But VR will, I think, remain something of a niche market for some time yet. You have to have a good reason to splash out the cash on the hardware – which means a sufficiently beefy computer as well as the headset itself.

AR, in contrast, will be built right into the devices we already own: our iPhones and iPads. We won't need to weigh up the pros & cons and decide whether or not the technology justifies the expense – it's a capability we'll all have by default, right there in our pockets or purses.

We've already seen developers start playing with the tech, even before Apple launches hardware designed to make the most of it. Today's iPhones can already do things that previously required specialised phones.

But it's not just about ubiquity, it's also about utility. There's almost nothing AR can't be used for, from something as simple as measuring stuff through watching a movie trailer to furnishing a new home by placing virtual items in real rooms.

There's also the philosophical difference between the two which Tim Cook described well.

I'm excited about Augmented Reality because unlike Virtual Reality which closes the world out, AR allows individuals to be present in the world but hopefully allows an improvement on what's happening presently. Most people don't want to lock themselves out from the world for a long period of time and today you can't do that because you get sick from it. With AR you can, not be engrossed in something, but have it be a part of your world, of your conversation. That has resonance.

So yes, perhaps Apple will figure out a way to make AR glasses that won't make us look like glassholes, but I see those as another niche market. Most of us, most of the time, are going to be experiencing AR on our iPhones and iPads. For the foreseeable future, AR is – in my view – going to be very much bigger than VR. And through ARKit, Apple has perfectly positioned itself to lead the way.

Mockups (prior to 'notch' design leaks): Garbor Balogh
Comment: Until holodecks arrive, AR not VR will be where the action is