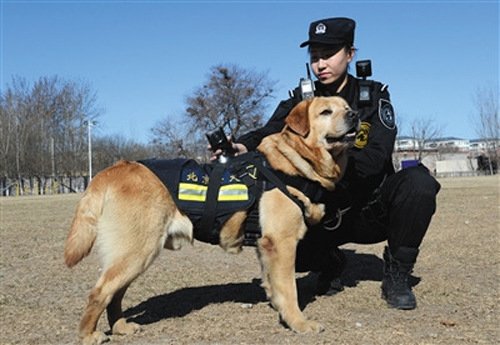 Chinese Police Dogs Are Now Using VR Cameras To Protect And Serve
Police dog's trained noses means that no smells slip past them.
Beijing police have started fitting their dogs with 360 degree cameras, China News is reporting.
Attached to a special harness and sitting on the dog's back, these cameras capture a panoramic view of everything happening around them.
Police can then put on VR headsets to have the same view as a dog.
Apparently these dogs have had special training, so hopefully they'll know how to create a clear shot that gives police the view they need.
Police dogs in Beijing are now being fitted with special 360 degree cameras that transmit to VR headsets to tighten security.

@UploadVR: Chinese Police Dogs Are Now Using VR Cameras To Protect And Serve via @Hero_Kvatch #VR
Police dog's trained noses means that no smells slip past them. Now, with the help of VR, they can be the force's all-seeing eyes too.

Beijing police have started fitting their dogs with 360 degree cameras, China News is reporting. Attached to a special harness and sitting on the dog's back, these cameras capture a panoramic view of everything happening around them. That means dogs won't just be able to detect suspicious smells, but also provide evidence for officers as they make their arrests. Now that's got to be the definition of 'good boy'.

Not only do these cameras capture everything around them from up to 10 meters away, but the footage is also transmitted live over wi-fi. Police can then put on VR headsets to have the same view as a dog. According to the article they'll even be able to order issues to the canines without actually being there.

The camera itself weighs just 155 grams and is ruggedized to make sure it can sustain any harsh treatment. For now they can only run up for about six hours but, in the future, police hope to expand the initiative so that they could record for over a week. Currently 15 dogs have been fitted with the cameras.

We know VR has plenty of applications, but it's safe to say this is one we didn't predict. Apparently these dogs have had special training, so hopefully they'll know how to create a clear shot that gives police the view they need. We can't imagine it being too pleasant watching a hound take down a suspect, though.

Who knows? Maybe if testing is successful we could see this applied in the west in the future. Who says VR is just for humans?

Tagged with: 360 degree media, Beijing, china, Police Dogs
Chinese Police Dogs Are Now Using VR Cameras To Protect And Serve