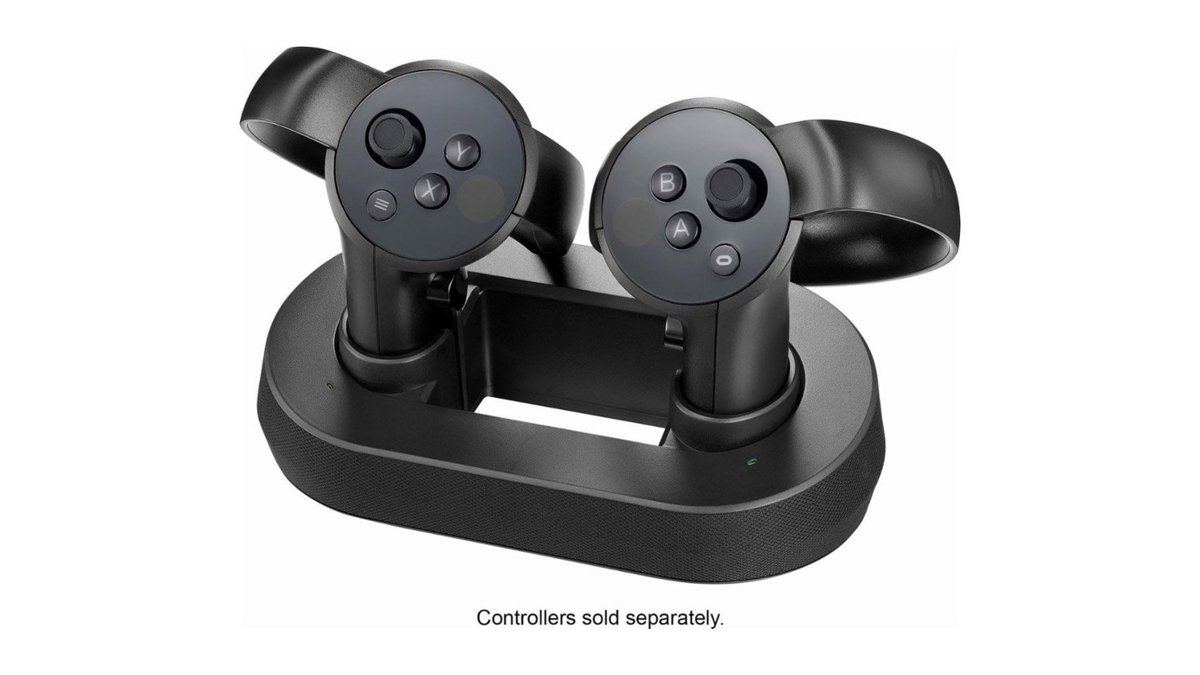 Best Buy's Insignia Brand Releases Charging Dock for Oculus Touch Controllers
Out of the box the Oculus Touch controllers use AA batteries (disposable or rechargeable) for power.
The new product from Insignia includes two rechargeable batteries (1200 mAh, up to 10 hours of use), a charging dock, AC power adapter, and two special battery compartment covers which expose charging contacts to the charging dock without removing the covers.
Image courtesy Best Buy – The dock holds both controllers allowing for simultaneous charging, purportedly takes about three hours to charge both controllers fully, and shuts off automatically once the controllers are fully charged.
Since it doesn't continue charging the dock functions as a safe display to keep the Touch controllers in until you're ready to play.
Besides buying a set of rechargeable batteries (and needing to change them externally), this is the accessory of its type that we've seen for the Oculus Touch controllers.
The Daily Roundup is our comprehensive coverage of the VR industry wrapped up into one daily email, delivered directly to your inbox. 

@RtoVR: Best Buy's Insignia Brand Releases Charging Dock for Touch Controllers
Best Buy's consumer electronics brand, Insignia, has released a charging station for the Oculus Touch controllers.

Out of the box the Oculus Touch controllers use AA batteries (disposable or rechargeable) for power. The new product from Insignia includes two rechargeable batteries (1200 mAh, up to 10 hours of use), a charging dock, AC power adapter, and two special battery compartment covers which expose charging contacts to the charging dock without removing the covers.

The dock holds both controllers allowing for simultaneous charging, purportedly takes about three hours to charge both controllers fully, and shuts off automatically once the controllers are fully charged. Since it doesn't continue charging the dock functions as a safe display to keep the Touch controllers in until you're ready to play. The controllers are placed in handle first (at the base of controller is where the charging contacts are) and sit upright in the stand.

The charging dock costs $30 and is available in stores and online at Best Buy. Besides buying a set of rechargeable batteries (and needing to change them externally), this is the accessory of its type that we've seen for the Oculus Touch controllers.

Doesn't the charging deck still require the controller to be inserted in order to start the charging process (This is how most charging decks are designed) Or can I take the charging unit out of the controller and then charge. I'm not going to charge the controllers every time I'm…
Best Buy's Insignia Brand Releases Charging Dock for Oculus Touch Controllers