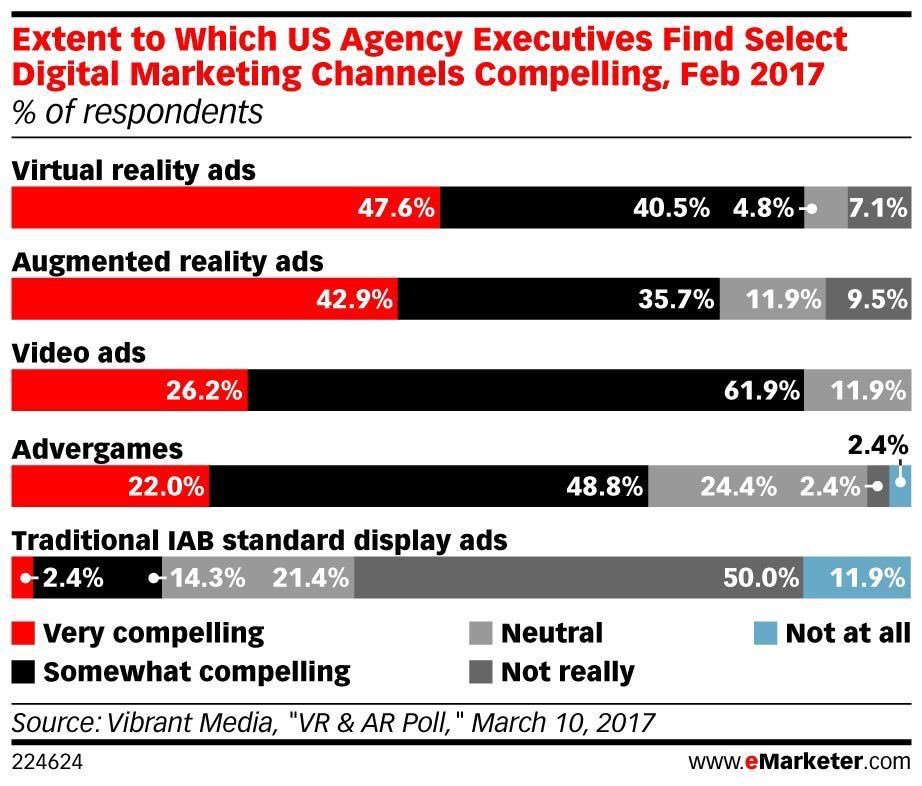 Are AR and VR Ads Compelling Enough?
Marketers are drawn to immersive technologies like augmented reality (AR) and virtual reality (VR), but when it comes to actually buying these ads for clients, a majority have yet to do so.
According to a February 2017 survey of US agency executives by Vibrant Media, more than three-quarters of respondents said they haven't purchased VR ads for their clients.
For the most part, VR and AR ads were noted as "very compelling" marketing channels, cited by close to half of respondents.
Only 9% of respondents said they had experienced augmented reality.
Only 25% of the respondents in the YuMe survey were even aware of the concept of AR—which is notable as the survey took place at the height of the Pokémon Go craze in summer 2016.
Agency execs tend to think so

@GlenGilmore: Are #AR and #VR ads compelling enough? Find out here: #mixedreality #DigitalMarketing
Marketers are drawn to immersive technologies like augmented reality (AR) and virtual reality (VR), but when it comes to actually buying these ads for clients, a majority have yet to do so.

According to a February 2017 survey of US agency executives by Vibrant Media, more than three-quarters of respondents said they haven't purchased VR ads for their clients. And almost nine in 10 hadn't purchased VR ads.

That was the case even though the survey found plenty of enthusiasm for the technologies. Vibrant asked the executives which digital marketing channels consumers find compelling, if at all. For the most part, VR and AR ads were noted as "very compelling" marketing channels, cited by close to half of respondents.

There are a variety of obstacles to overcome for more of these marketers to commit advertising dollars to AR and VR. The first is the size of the audience.

For example, just 16% of internet users polled last August by YuMe said they had used virtual reality. Only 9% of respondents said they had experienced augmented reality.

Another obstacle is understanding what constitutes virtual and augmented reality. Only 25% of the respondents in the YuMe survey were even aware of the concept of AR—which is notable as the survey took place at the height of the Pokémon Go craze in summer 2016.

Greater awareness and usage are likely to be needed before the gap between agency enthusiasm and spending is bridged.

(Editor's note: This article has been updated to reflect the extent to which consumers find select digital marketing channels compelling.)

US paid media ad spending will grow steadily in 2017, on the heels of a strong 2016 boosted by the Rio Olympics and the presidential election. A focus on mobile will fuel growth, pushing total media spend to more than $206 billion this year—a moderate increase of 6.1%. Preview Report