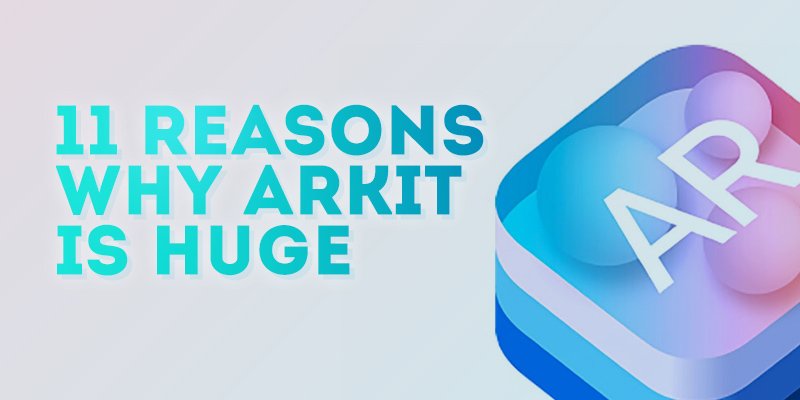 INFOGRAPHIC: Apple Augmented Reality All Facts and Figures
At the recent WWDC (Worldwide Developers Conference) in California, Apple announced a tool called ARKit, which has been designed to provide advanced Augmented Reality (AR) features and capabilities on iOS.
Apple announced that the new iOS 11 (released this fall) will support ARKit for Augmented Reality (AR).
– In short, it integrates the iOS device camera and motion features to produce Augmented Reality experiences in iOs apps.
But this announcement means Apple's devices and software will now be primed to enable AR features from the outset.
ARKit, on the other hand, will be available across all iOS devices, making it – according to Federighi – the "largest AR platform in the world."
Apple's announcement of the ARKit release for iOS11 makes it the "Ford Model T" of Augmented Reality. Here are 11 facts about ARKit that you need to know.

@apprealvr: Apple #ARKit: 11 Facts, Thoughts, and Conclusions. #iOS #Apple #AR
At the recent WWDC (Worldwide Developers Conference) in California, Apple announced a tool called ARKit, which has been designed to provide advanced Augmented Reality (AR) features and capabilities on iOS.

It will support 'fast and stable motion tracking', meaning digital objects displayed on screen will appear seamlessly as part of the user's real-world surroundings. Think Pokémon GO, but smoother, quicker, and better.

So, what does this actually mean?

Well, we've pulled together 11 facts, thoughts, and conclusions from the big announcement to help you understand the magnitude of this exciting development.

1. Apple announced that the new iOS 11 (released this fall) will support ARKit for Augmented Reality (AR).

2. What is it? – In short, it integrates the iOS device camera and motion features to produce Augmented Reality experiences in iOs apps.

3. The ARKit is a new framework. It will allow developers to easily create unparalleled AR experiences for iPhone and iPad.

4. This will blend digital objects and information with the real-world environment around us, resulting in a new way of interaction.

5. After keeping something of a low profile, Apple is finally in the AR game!

6. In the words of Apple CEO Tim Cook, AR is going to be "huge."

7. In two years, everyone will know what Augmented Reality is, and what AR stands for.

8. It's a game-changing technological advancement; one that will offer a better user experience than 2D.

9. It's exactly like the Ford Model T – there are other AR tools available, but ARKit will be the first used by the mass market. In fact, Apple's senior vice president of Software Engineering Craig Federighi describes it as "AR like you've never seen it before."

10. Your typical mobile app is about to change. Mobile developers aren't enough anymore; Unity (and Unreal) is the new trend in technology. If you're building the iOS app of the future, you need to hire Unity developers ASAP!

11. Finally, remember Pokémon GO? ARKit will offer Pokémon GO on steroids.

Up until this announcement, we've seen third-party AR-centric apps like the aforementioned Pokémon GO and Snapchat dominate in both popularity and functionality.

But this announcement means Apple's devices and software will now be primed to enable AR features from the outset.

While Google has some skin in the AR game with Tango, it's only available on select Android devices. ARKit, on the other hand, will be available across all iOS devices, making it – according to Federighi – the "largest AR platform in the world."

And we can't wait to see it in action.

Apple announced something that was "a light year ahead" of everything else that's out there. Most people know or have heard and even experienced the Augmented Reality (AR) from Snapchat or Pokemon GO. The iPhone is going to be the AR device of the next five years for sure and ARKit will allow developers to build rich AR experiences far beyond what we've experienced in AR today. Apple Augmented Reality will help bring AR into the mainstream faster and better than anyone else. I know people that are already prepared for the future … Apple Augmented Reality immediatelly will reach millions of people who already have the requisite hardware. So … if you are looking for the AR innovator, once again Apple looks like the likeliest "suspect".

How about this…Finally Apple started to give developers the ability to build AR applications for iPhone and iPad as well with a recently released beta of iOS 11. Only bothers me the fact that Apple Augmented Reality isn't available yet for users.

Apple's plan for Augmented Reality were so much in secret … but now, its all revealed … We have the Apple Augmented Reality right here! What a shot by Apple, I am so grateful to this, and the new iPhone 8 will be AR ready with multiple sensing cameras and also will have enhanced localization capability. Will capture very detailed data about the environment, and the phone can react to the objects around it. I am truly amazed by the ARKit – Apple Augmented Reality and for sure there is a AR use for in almost anything – like games, entertainment, business … also in music, health, navigation. We have enormous and huge potential with ARKit!