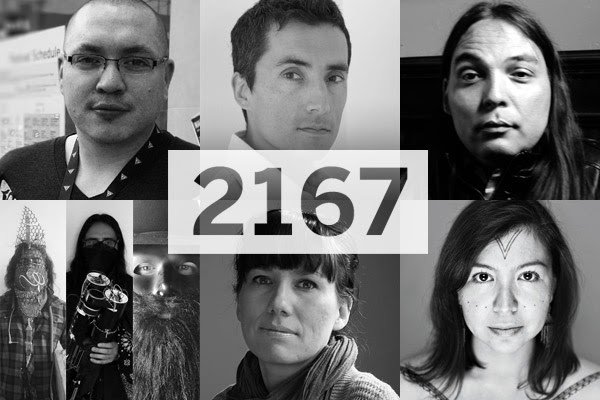 News Release: "What Does the Future of Canada Look Like?"
You probably found the page because one of our subscribers used MailChimp to send you an email campaign, and you traced a link in the email back to investigate.
We send more than 1 billion emails every day, and we help our customers comply with spam laws and best practices so they can get their campaigns into their subscribers' inboxes.
MailChimp is an email-marketing service that serves more than 12 million companies of all shapes and sizes, from all over the world.
MailChimp® is a registered trademark of The Rocket Science Group.
About / MCSV
Read the full article, click here.
---
@TIFF_NET: "Announcing project 2167: an innovative #VR & immersive media series from Indigenous artists"
---
About TIFF
TIFF is a charitable cultural organization whose mission is to transform the way people see the world through film. An international leader in film culture, TIFF projects include the annual Toronto International Film Festival in September; TIFF Bell Lightbox, which features five cinemas, major exhibitions, and learning and entertainment facilities; and innovative national distribution program Film Circuit. The organization generates an annual economic impact of $189 million CAD. TIFF Bell Lightbox is generously supported by contributors including Founding Sponsor Bell, the Province of Ontario, the Government of Canada, the City of Toronto, the Reitman family (Ivan Reitman, Agi Mandel and Susan Michaels), The Daniels Corporation and RBC. For more information, visit tiff.net.  
About imagineNATIVE 
Founded in 1999, imagineNATIVE is the international centre for Indigenous-made media arts. Its annual Festival celebrates 17 years from 19-23 October 2016 and is the world's largest showcase of film, video, audio, and digital media works created by Indigenous directors, producers, and screenwriters. Year-round imagineNATIVE presents a national tour, screenings across Canada and internationally, and a community screening series based in the Greater Toronto Area. imagineNATIVE is committed to the professional development of Indigenous artists through its numerous workshops, labs, and panels through its Industry Series and through strategic partnerships internationally. imagineNATIVE showcases, promotes, and celebrates Canadian and international Indigenous filmmakers and media artists and is committed to a greater understanding by audiences of Indigenous peoples, cultures, and artistic expressions. For more information, visit imaginenative.org.  
About Pinnguaq
Pinnguaq is a company rooted in the creation of unique cultural experiences. They operate in Ontario, Nunavut and British Columbia, with a cutting edge mandate to create interactive experiences that push both the limits of technology and cultural expression. Pinnguaq has created games, films and environments in virtual spaces. Now they are looking to combine all of these elements into experiences that integrate unique interpretations of music and culture in an immersive and potentially interactive way. Pinnguaq's current and ongoing projects include marketing extensions of feature films such as Bang Bang Baby, which received the prize for Best Canadian First Feature at the 2014 Toronto International Film Festival, as well as video games, art installations, and music collaborations with artists such as Glenn Gould, Philip Glass, The Strumbellas, A Tribe Called Red and Polaris Prize Winner Tanya Tagaq. For more information, visit pinnguaq.com.  
About Initiative for Indigenous Futures
The Initiative for Indigenous Futures (IIF) is a partnership of universities and community organizations dedicated to developing multiple visions of Indigenous peoples tomorrow in order to better understand where we need to go today. Through its four main components — workshops, residencies, symposia, and archive — IIF encourages and enables artists, academics, youth and elders to imagine how we and our communities will look in the future. IIF is conducted by Aboriginal Territories in Cyberspace (AbTeC), a research network based at Concordia University. For more information, visit abtec.org/iif.  
---
News Release: "What Does the Future of Canada Look Like?"