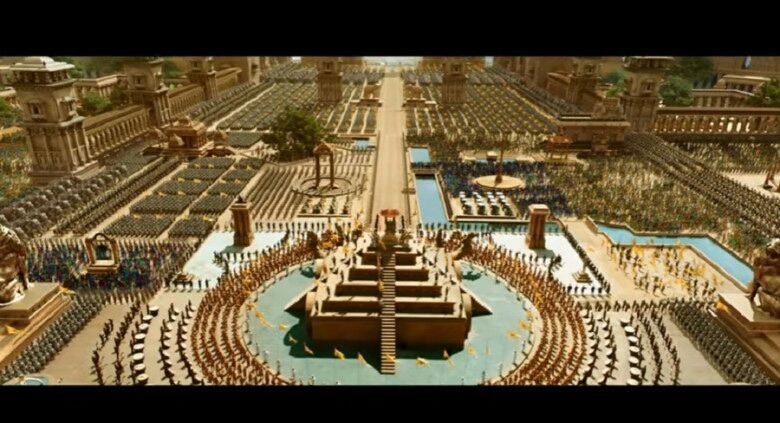 AMD debuts a VR experience around big India movie release
In India, the Baahubali 2: The Conclusion film will debut on April 28 worldwide, and it will be accompanied by a big VR campaign as well that will promote the film and tell a side story in a VR-animated universe.
Arka Media Works, which is making the film, is collaborating with Advanced Micro Devices and Amazon on the VR experience, and they are showing it this week at the Tribeca Immersive program.
Koduri said he hopes the VR experience will drive more interest in the film, which is already very popular.
In the VR experience, fans can ride horses, fight battles, and interactively engage with Baahubali, making this the first full VR experience for any film in India.
"In the final sequence of the VR experience, you'll come face to face with the hero of the film," Koduri said.
Baahubali is one of India's biggest films, and it is getting a sequel, Baahubali 2: The Conclusion, which is one of the most technologically sophisticated films ever made. It is the world's first "trillion pixel film," and it is getting a virtual reality experience that is debuting this week at the Tribeca Film Festival in New York.

@RickKing16: AMD debuts a #VR experience around big India movie release
Baahubali is one of India's biggest films, and it is getting a sequel, Baahubali 2: The Conclusion, which is one of the most technologically sophisticated films ever made. It is the world's first "trillion pixel film," and it is getting a virtual reality experience that is debuting this week at the Tribeca Film Festival in New York.

The VR project, dubbed The Sword of Baahubali, shows that virtual reality is having an impact around the world, not just in the U.S. In India, the Baahubali 2: The Conclusion film will debut on April 28 worldwide, and it will be accompanied by a big VR campaign as well that will promote the film and tell a side story in a VR-animated universe.

Arka Media Works, which is making the film, is collaborating with Advanced Micro Devices and Amazon on the VR experience, and they are showing it this week at the Tribeca Immersive program.

Raja Koduri, senior vice president and chief architect of AMD's Radeon Technologies Group, said in an interview with GamesBeat that the company started working on the project a couple of years ago after one of his visits to India. The filmmakers were re-creating an entire ancient kingdom across 200 acres of land for their film setting. Koduri got to see it, and he wanted AMD to get involved.

"I was blown away at how they re-created this kingdom," Koduri said. "I thought we had to get it all into VR. We had to re-created it in a game engine to do that, because the sets were created for a film."

The film's computer-generated effects are being created on workstations with AMD's Radeon graphics chips. AMD's teams also had to create content that could run on high-end hardware in VR in real-time.

"It really looks photorealistic, and that's what we wanted to achieve in a real-time VR experience," Koduri said.

The companies are also rolling out VR installations, or location-based entertainment, at lots of cinemas across India using HTC Vive VR headsets. Koduri said he hopes the VR experience will drive more interest in the film, which is already very popular. The trailer for the film already has more than 100 million views, and it's one of the most viewed trailers of all time.

In the VR experience, fans can ride horses, fight battles, and interactively engage with Baahubali, making this the first full VR experience for any film in India. The fans see the medieval kingdom that is depicted in the film. Two characters (who are not in the film) will greet you, and they have to find the Sword of Baahubali. The character in the film needs to get that sword to be victorious. You get to witness the king's court, and you have to deal with the attack of a big elephant. The VR experience lasts around 10 minutes.

"In the final sequence of the VR experience, you'll come face to face with the hero of the film," Koduri said. "I think that location-based VR will drive interest. For consumers, it's a five-year journey for us to make VR ubiquitous."